Every webinar host knows the excitement of turning an idea into a complete online event.
But the path to success isn't always straightforward. 
You need thoughtful planning, attention to detail, and perfect timing.
This is where a webinar timeline comes in. 
It covers all the steps from pre-webinar preparations to post-webinar engagement.
Now, a webinar timeline is more than just a to-do list. It's the key to making sure your event goes off without a hitch. 
This guide will walk you through each stage of the webinar planning process. And how you can set up your own webinar timeline.
Why You Need a Webinar Timeline
A well-defined webinar timeline streamlines your event preparation. 
Every step, from initial planning to the live presentation, gets its designated schedule and timeframe. 
This clarity not only helps in avoiding oversights but also guarantees that each task gets the attention it deserves.
Without a timeline, you might overlook your webinar promotions which can result in lower attendance.
Similarly, forgetting to run technical checks could lead to disruptive glitches during the event.
Keep in mind that 73% of marketing and sales leaders use webinars for quality lead generation. 
This means you need to implement each component to perfection. Any delays or missteps can equal missed opportunities.
Using a reliable webinar automation platform makes it easy to set up your webinar timeline. 
AEvent for instance has a timeline creation feature that lets you input each element in your webinar schedule, like registration systems, email promotions, and a lot more.
The Stages of Webinar Planning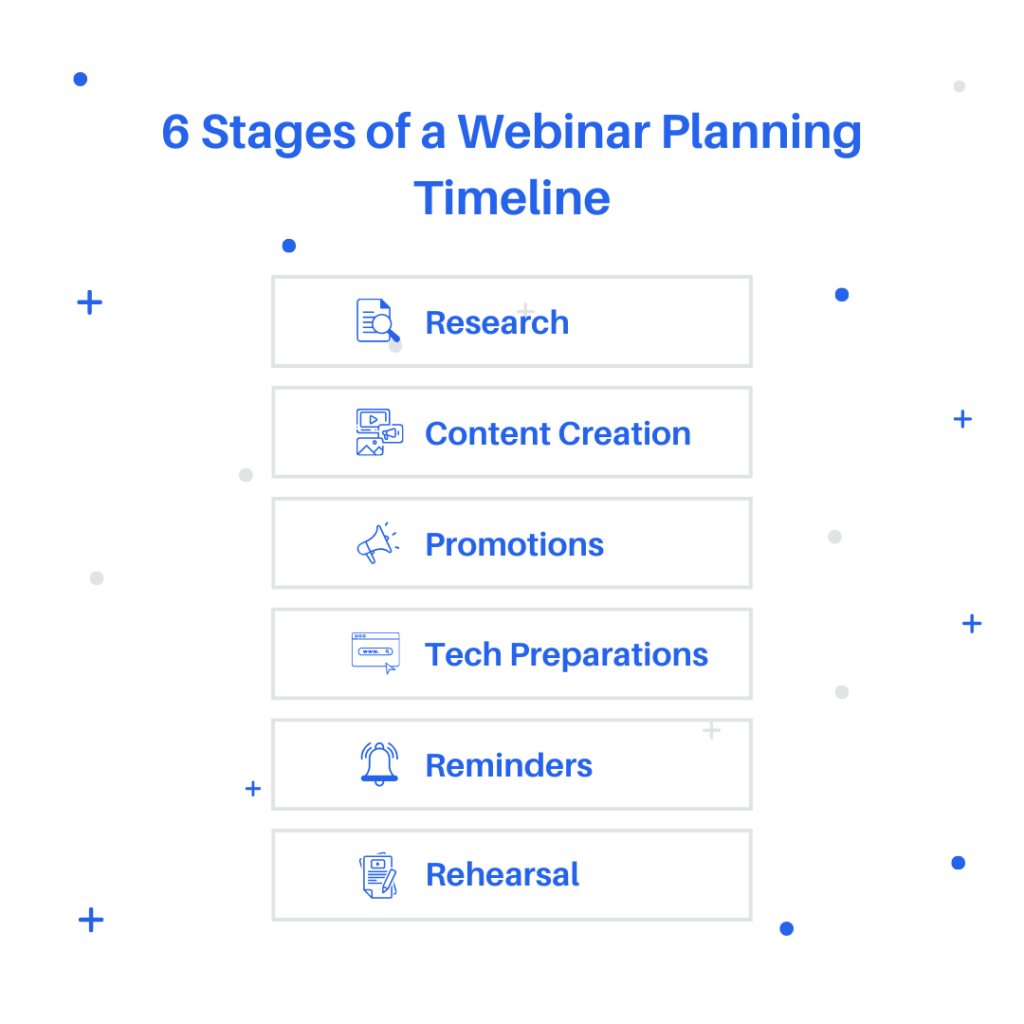 The different stages of your webinar timeline represent crucial touchpoints that can make or break the attendee experience.
Each one covers specific objectives that lead your audience to register, attend, and convert.
So it's important to consider how much time you'll need to prepare and launch your online event.
These are the key parts to include in your webinar planning timeline:
Topic Selection and Research (8-10 weeks before the webinar)
Choosing the right topic is the first step towards hosting a successful webinar. 
It sets the tone for everything that follows.
Before deciding on a topic, understand what your audience is keen on learning. 
Are there specific challenges they're facing in your industry? What knowledge gaps do you have the expertise to fill?
Tailor your topic to address these pain points.
If you've hosted webinars in the past, look into the data. 
Use this information to identify which topics attracted the most participants or generated the most feedback.
This stage is also the best time to brainstorm with your team and set your webinar's goals and desired outcomes.
Whether it's driving sales, educating the audience, or expanding brand awareness, having clear objectives helps in measuring the success post-event (and optimizing future webinars). 
Content Creation (6-8 weeks before)
Once you have your webinar topic and goals, the next step is to create the content that goes with it.
Start by outlining the flow of your webinar. 
You can open with an introduction that hooks your audience, followed by the main content, a Q&A session, and then your webinar CTA.
This structured approach keeps your content easy to follow so your audience doesn't get distracted.
Visual representation is equally crucial. 
Invest time in designing impactful slides that complement your narrative. 
With the right balance of visuals and text, your slides can emphasize key points while reflecting your brand's identity.
It also helps if you eye on inviting an industry expert as a guest speaker.
Their insights can not only enrich your content but also amplify the credibility of your webinar.
Promotion Kick-off (5-6 weeks before)
Your webinar deserves an audience, and this is where the promotion part of your webinar timeline comes into play.
The key is to set enough time to roll out ads, emails, and other promotions so you steadily build anticipation around your event.
Know where your audience engages most with your content. This helps you create the right message that will get their attention.
Our advice is to focus on email since it accounts for 57% of webinar registrations. 
You can start by drafting your webinar registration email to help encourage attendance and participation.
Make sure to highlight your webinar's value proposition so your email doesn't get ignored.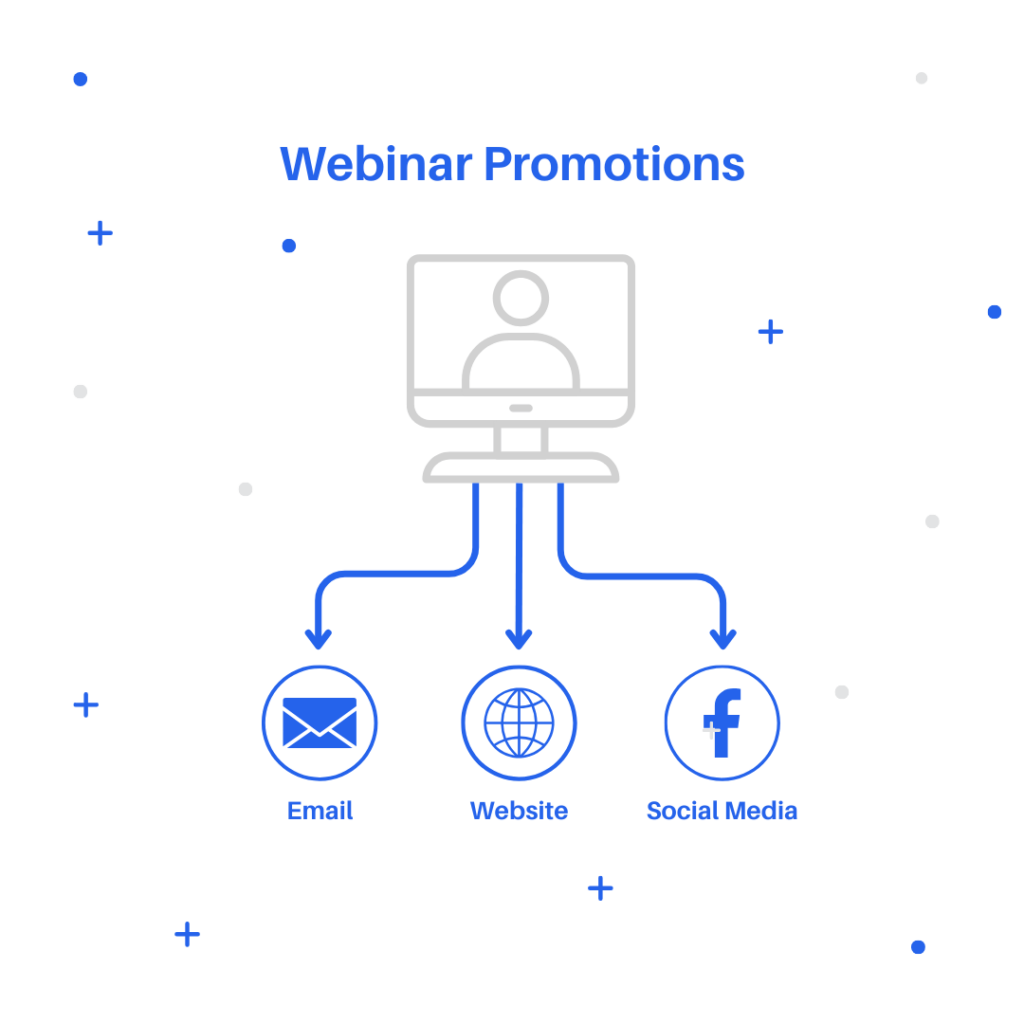 Once you've set the stage, share teasers of the webinar content, introduce any guest speakers, or provide previews of exclusive resources. 
This not only creates a buzz but also offers tangible reasons for your audience to attend.
It helps to broaden your promotional efforts across various channels like your website or social media to maximize reach.
Technical Preparations (3-4 weeks before)
As the webinar date draws closer, you need to keep your tech and logistics in order.
If you're going to automate your webinar, make sure that your platform is set up and configured with all the right settings.
Run a sample broadcast to see what your webinar will look like as an attendee.
Remember, a simple malfunction can disrupt the entire flow of your webinar. 
So be sure to test your microphones, cameras, and any auxiliary devices.
Dedicate time to designing a user-friendly registration portal or landing page. 
It should be clear and provide all the necessary details about the event like link, time, and date. 
Integrating this with email automation platforms can simplify the process of gathering confirmations and sending follow-ups.
The goal in this stage is to enhance the user experience even before the webinar begins.
Final Promotions and Reminders (1-2 weeks before)
By this stage, your content should be polished and your technical aspects are in place.
Your focus now shifts to ensuring a high audience turnout.
For those who've already registered, webinar reminder emails and SMS are a critical strategy. 
They serve to not only jog your audience's memory but also to build excitement and anticipation.
These emails and texts showcase key topics, speakers, or interactive segments that attendees can look forward to. 
For potential attendees who are still on the fence, reminders also help to solidify their commitment. 
Feature testimonials from past webinars or share snippets of content to give them a glimpse of what to expect.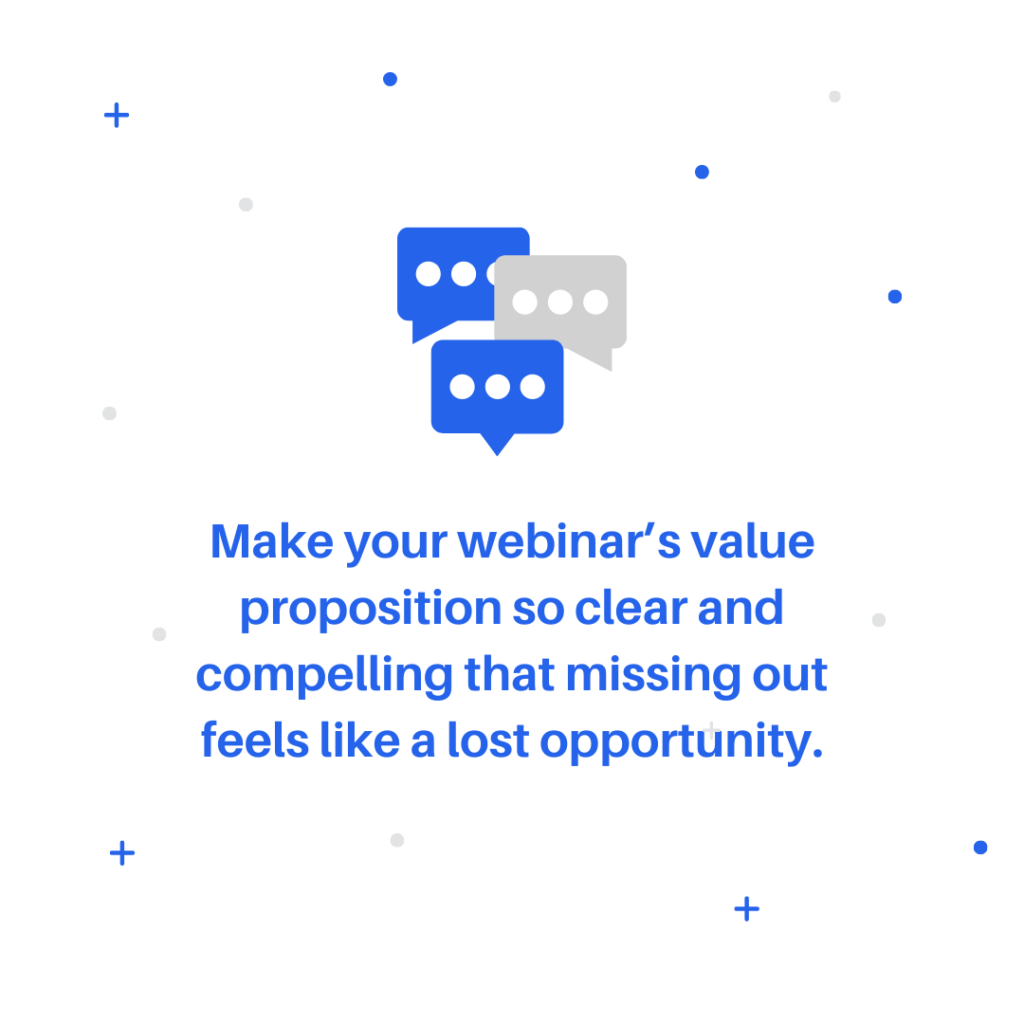 Rehearsal (2-3 days before)
No detail is too small when perfection is the goal. And with only a few days left before the webinar, rehearsals are a must.
Review the flow of your content and presentation.
This includes how you'll introduce the topic, transition between segments, interact with attendees, and conclude. 
It's important for all speakers, whether they're hosts, guest experts, or panel members, to have a clear understanding of the agenda.
They should be comfortable with the platform's controls, from sharing their screens to responding to audience questions.
If you run into any problems during the rehearsal, you'll still have enough time to tweak and refine before going live.
Going Live on Webinar Day
After all the planning and preparation, the webinar day arrives.
While you might have a clear script or plan in place, the actual event is dynamic with many moving parts.
You need to be ready to adapt and adjust when needed.
That said, how you start your webinar is crucial. 
Those initial moments determine the attendees' first impression and set the mood for the entire session. 
Open the webinar on time, greet your attendees, and lay out the agenda clearly. 
This not only shows professionalism but also reassures your audience about the value they're set to receive.
But the heart of your webinar isn't just the core content. It's how you present it. 
Throughout the session, maintain steady energy and enthusiasm. 
Engage your audience by posing questions, encouraging discussions, or incorporating real-time polls.
And when it comes time to close the event, seamlessly pitch your offer and nudge your audience to take action.
Scheduling an Encore Timeline Event
Interacting with your attendees doesn't end after the live webinar.
There's still work to be done to solidify engagement and make sure your message resonates.
So it's important that you schedule an encore timeline event for both attendees and non-attendees.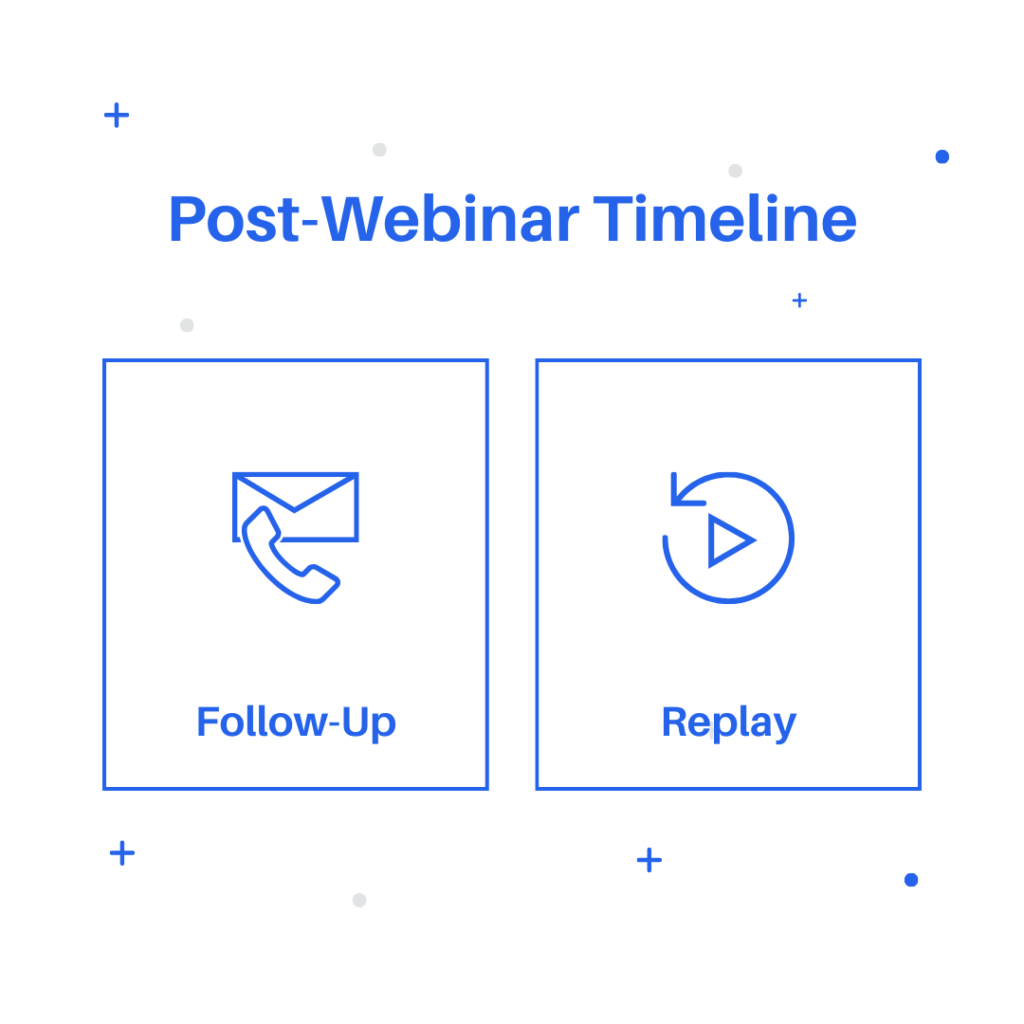 A follow-up sequence helps maintain the connection you've built with your attendees. 
Reach out to them with a thank you message, ask for their feedback, and address any questions that may have surfaced post-webinar. 
This not only strengthens relationships but also equips you with insights that can improve your future webinars.
But don't let the conversation stop there. 
Continue to provide value by sharing additional resources or materials related to your webinar topic. 
You can send them blog posts, infographics, or even a PDF summary of your presentation.
People's schedules get hectic. 
And not everyone who wanted to attend your webinar could have made it to the live event. 
The solution is to send out a webinar replay email with bonus content. 
This maximizes the value of your webinar and helps it reach a wider audience. 
Promote this replay just as you would the original event, targeting those who showed interest but couldn't attend.
Automate Your Webinar Timeline with AEvent
Every webinar, live or recorded, becomes an extension of your brand identity. 
The way you handle the planning and execution influences participants' perceptions.
And it can cement your position as a trustworthy, informative, and engaging figure in your field.
Setting up a comprehensive webinar timeline can help you achieve this.
What's even better is you can automate your timeline so each stage of your webinar gets done according to schedule.
So don't leave your webinar success to chance. Take control with the right tools.
Ready to redefine your webinar experience?