Webinars are a great tool for sharing knowledge, promoting brands, and building communities. 
However, a successful webinar doesn't just lie in its content. 
A significant factor that helps any webinar succeed is how you communicate and interact with potential attendees prior to the event.
This is why a well-crafted webinar registration email is crucial. 
It not only confirms a participant's registration but also sets the tone and creates anticipation for your online event. 
This guide will show you how to create compelling webinar registration emails to boost attendance and engagement rates.
What is a Webinar Registration Email? (And Why Is It Important)
Engaging potential attendees starts right from the moment they show interest in your event. A webinar registration confirmation email serves as the attendees' initial touchpoint with your brand after signing up. 
It provides the essential details about the webinar and addresses recipients' needs so they're well-informed and eager to participate.
By answering potential questions in advance, you lay the groundwork for a seamless webinar experience.
Keep in mind that only 44% of people attend webinars they have registered for.
A great email can be the difference between an attendee who is excited and shows up versus an attendee who forgets your webinar altogether.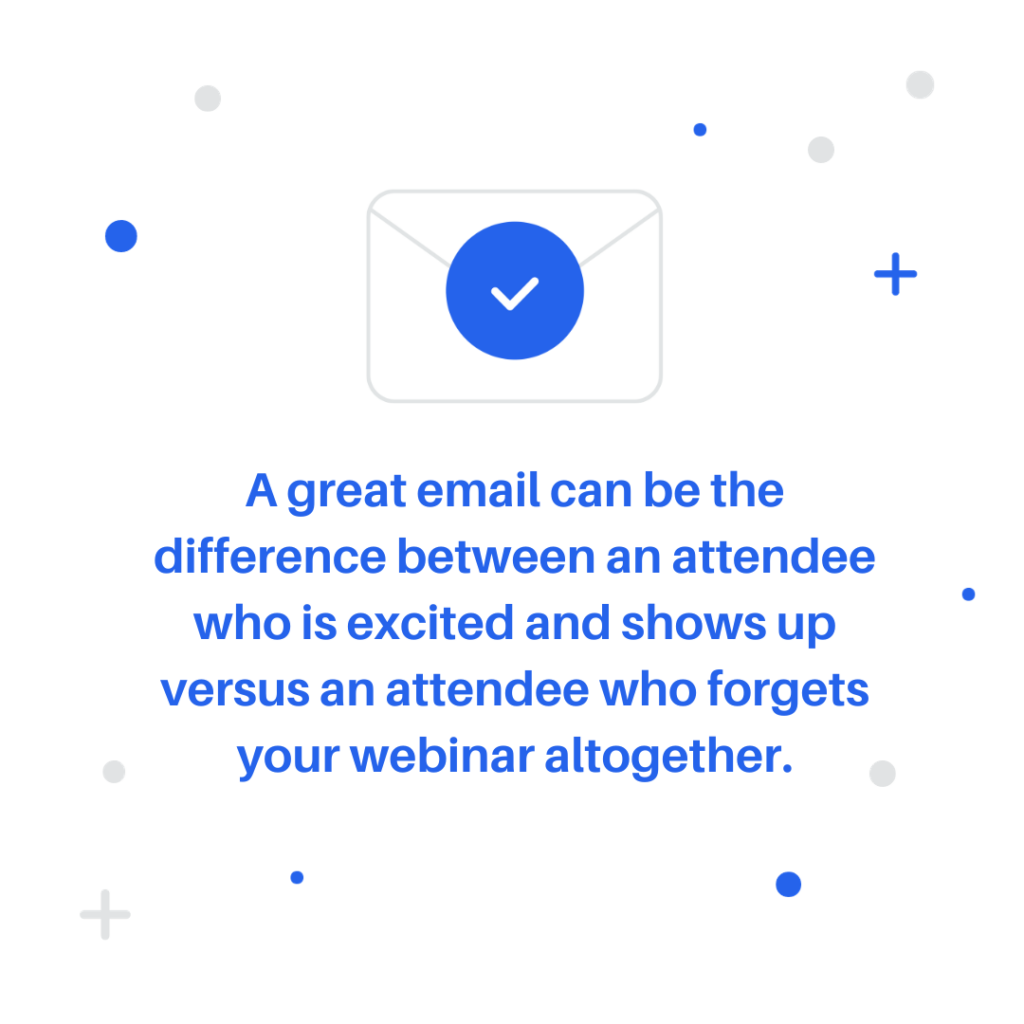 Registration emails also present an ideal opportunity to capture data from attendees, such as their job titles, industries, or areas of interest. 
You can use this information to create more personalized email content that can increase the chances of conversion. 
This helps foster a deeper connection with your audience even before the webinar begins. 
Taking the time to perfect this stage in your webinar email sequence shows your commitment to delivering valuable content.
The Key Elements of an Effective Webinar Registration Email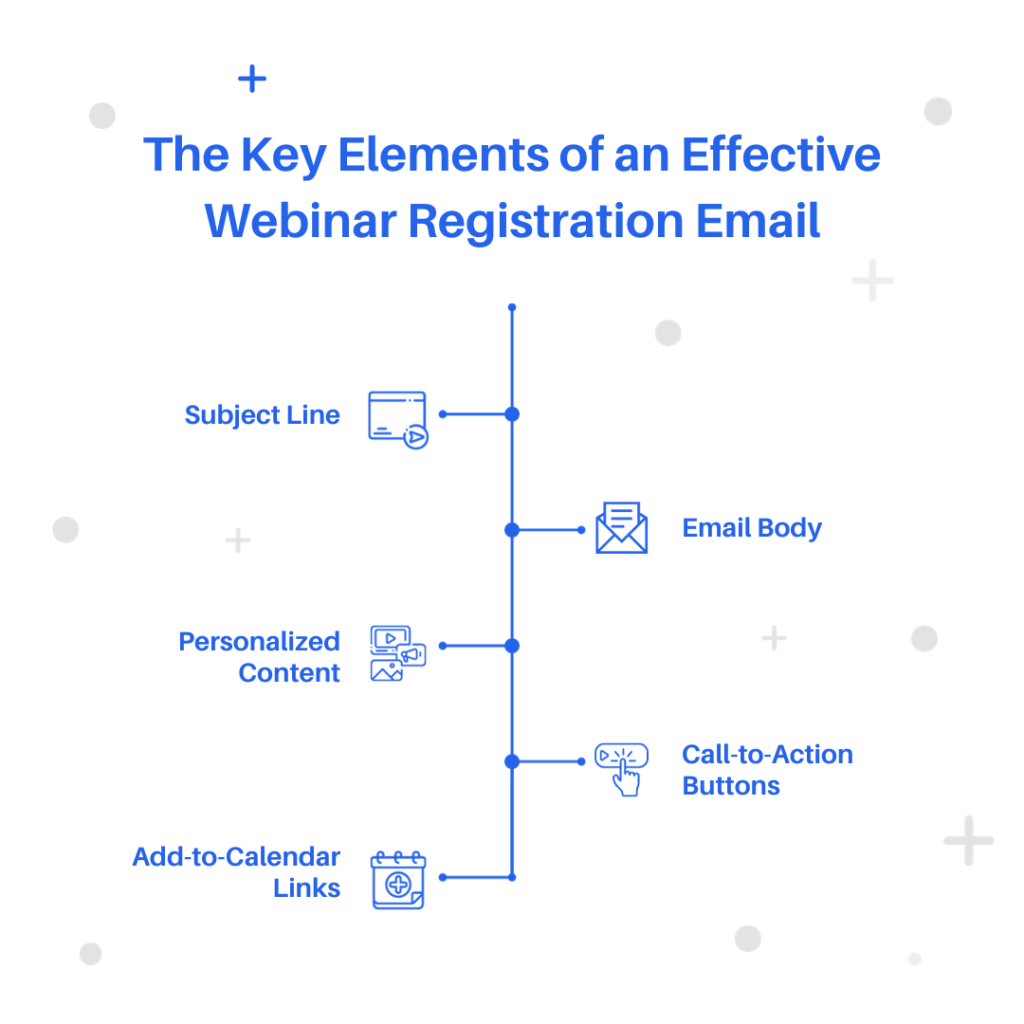 Webinar emails and online events flood inboxes every day. 
To get your audience to attend your event, it's important to make your webinar registration email stand out from the rest.
Every component of your email needs to be optimized for engagement–from a captivating subject line to clear and concise content.
Here are 5 elements of a "thank you" email for webinar registration that will get your attendees to click.
64% of recipients decide to open or delete emails based on subject lines. So you need to think about what your email should say.
Your subject line is like a news headline or the title of an article. 
It needs to capture the reader's interest so they'll open the email and keep reading. It's the perfect blend of brevity and impact.
But an effective subject line isn't just about being short.
It's about conveying the essence of what's inside the email and the value the reader will get from it. 
The subject line should mirror the main theme or takeaways of your webinar. This small string of words has a big responsibility: to get your audience intrigued and invested.
If your webinar is about digital marketing trends, these are some examples of catchy and relevant subject lines:
"Thank You for Securing Your Spot in Tomorrow's Session"
"Your Webinar Attendee Details: Digital Mastery Awaits!"
While the main goal of your email is to confirm registrations, the email body should also provide details about the webinar. 
These include the webinar topic, date and time, and the access details they need to join the event. 
Adding a reminder for the participant to check their connection or system requirements also helps. 
Open your email by establishing a warm and personal connection. Address attendees by their first name and express gratitude for their interest.
For instance, a greeting like this immediately resonates. It makes the recipient feel valued.
"Hello [Name],

Thank you for securing your spot at our upcoming webinar!"


It's also important to articulate the benefits attendees can gain from the session. 
Convey the tangible value they would gain, like a clear comprehension of marketing tools or practical techniques and strategies. 
You can also include a preview of the resources they'll receive, like templates or exclusive courses.
Reinforce that their decision to register for your webinar wasn't just the right one, it's potentially transformative.
You can use statements like:
"By joining us, you're opening the door to a wealth of knowledge that could elevate your skills and reshape your strategies."


Attendees often skim their emails. So you need to maintain a concise and scannable format.
Break content into short paragraphs or use bullet points. This helps readers remember the event details without feeling overwhelmed.
Crafting a personalized experience in your emails is a powerful way to distinguish your brand and establish trust among your audience. 
Personalized content resonates more deeply with recipients. It makes them feel valued and understood, which leads to better engagement rates. 
If your system tracks past attendee behavior, use that data to your advantage. For example:
"We noticed you attended our digital marketing masterclass last month. Our upcoming webinar covers advanced marketing strategies." 


By drawing these connections, you're showing attentiveness to the attendee's learning journey. And it's a great way to reinforce their interest in your event.
You can also suggest other evergreen webinars or products based on their past interests.
This is not just good marketing—it's thoughtful content curation. 
Instead of overwhelming them with every offer under the sun, tailor suggestions to resonate with their preferences and needs. 
This approach turns your email from a simple confirmation into a comprehensive guide to your brand's offers.
Language plays a critical role in CTA effectiveness. Use action-oriented language that not only instructs but also excites. 
Instead of a generic "Click Here," phrases like "Secure Your Seat" or "Join the Webinar" can be much more enticing. 
This creates a sense of urgency and encourages the recipient to act promptly.
The placement of your CTA button or link is equally important. 
Ideally, you want to have it displayed, both toward the top of the email (for those who don't scroll down) and at the end to reinforce the action after they have read all the details. 
A/B testing helps with this. You can try different placements, colors, and button sizes to get insights on what resonates most with your audience.
A well-placed "Join Here" button helps improve those click-through rates.
It's ‌easy for your webinar to get overlooked, even if registrants have every intention of attending. 
Add-to-calendar links solve this problem. They are an easy and practical tool to ensure your online event remains top-of-mind.
Your webinar details, including the date, time, and link to join, get synced into attendees' calendars (complete with a reminder).
Include different calendar options like Google Calendar, Apple iCal, Microsoft Outlook, and Yahoo Calendar to reach a wider audience. 
For instance, your webinar registration email could feature distinct, clearly labeled icons for each calendar type. 
A simple layout might read: 
"Add to Your Calendar:

 

[Google Icon] Google | [Apple Icon] iCal | [Outlook Icon] Outlook." 

 
This reduces any barriers or hesitations attendees might have from joining your webinar.
When to Send Your Webinar Registration Reminder Email
Understanding the routines of your target audience can help you identify the right times for sending your webinar registration reminder emails.
For instance, if you're addressing working professionals, a mid-morning reminder might get more traction than one sent late in the evening. 
If your audience spans multiple time zones, consider segmenting your email list to tailor your emails to different schedules.
Using the right webinar automation tool can simplify this process. Platforms like AEvent let you send your webinar emails automatically.
One of the primary benefits of automation is immediacy. 
The moment participants sign up for your webinar, AEvent can instantly dispatch a registration reminder email. 
This level of communication ensures participants receive all the details right away, which increases the possibility of attendance.
It provides attendees with the assurance that their registration was successful. And it keeps the enthusiasm of the webinar fresh in their minds.
When you sign up for AEvent, you can even set up automated email sequences 7 days, 3 days, or 1 day before the event.
You'll also get access to detailed analytics so you can measure the effectiveness of your reminders and optimize for better results.
Examples of Successful Webinar Registration Emails
Here is a webinar registration confirmation email sample: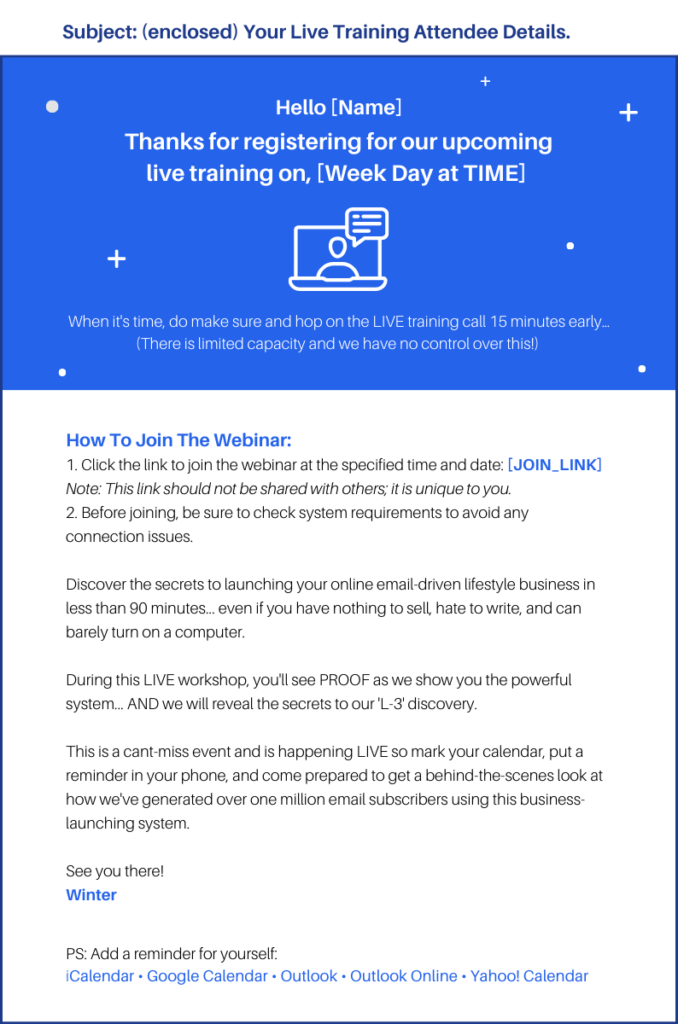 This includes the key elements of an effective webinar registration email.
The subject line, "Your Live Training Attendee Details," notifies the recipient of the email's relevance right away. 
Using the term "Your" also adds a personal touch and gives the recipient a sense of ownership over the upcoming event.
The word "(enclosed)" plays with curiosity and entices recipients to read the email's content.
Once inside the email, readers are given the details:
Time and date of the webinar
A unique link to join
A reminder to check system requirements


The emphasis on the limited capacity adds a sense of urgency and exclusivity, nudging recipients to mark the webinar as a priority in their schedules.
Phrases like "discover the secrets" and the promise of tangible "proof" build anticipation and intrigue. 
This is emphasized more with the mention of their impressive track record – "generating over one million email subscribers". 
The email adds a personal touch by mentioning the names of the webinar hosts in its sign-off, making the invite feel genuine and sincere.
The email uses direct prompts, such as providing the unique link to join the webinar. 
It also uses subtle cues through statements like "When it's time, do make sure and hop on the LIVE training call."
There is a postscript section that provides direct links to popular calendar platforms. 
By offering attendees a simple method to set reminders, the email increases the chances of attendance and conversion.
Webinar Registration Emails Done Right with AEvent
A well-crafted email can mean the difference between an attendee and a missed opportunity. 
To ensure maximum attendance, your webinar registration email requires a mix of personalization, clear and actionable call-to-actions, and timely reminders.
Leveraging tools that automate your webinar emails can help. This takes care of the timeliness and efficiency of your outreach efforts.
AEvent is here to guide you through that process. Our platform offers email automation features so you run a seamless webinar from start to finish.
Looking to take your webinar registration emails to the next level?