To get the best results from your webinar in today's fast-paced digital realm, it's critical to set up a webinar that will run on autopilot.
Not only do automated webinars save you time creating and hosting live events, they also enable you to scale your offer beyond your own capacity to host events.
In this guide we'll teach you how to automate your webinar so you can maximize results and lay a foundation for increased revenue.
The Evolution of Webinars
Over the past decade, online events have become exponentially more popular. And the COVID-19 pandemic further accelerated this trend. 
Virtual events are no longer a luxury. They're now one of the primary modes of professional communication and brand promotions. 
In fact, a survey by Statista indicated that 99% of businesses consider webinars a critical element of their marketing plan.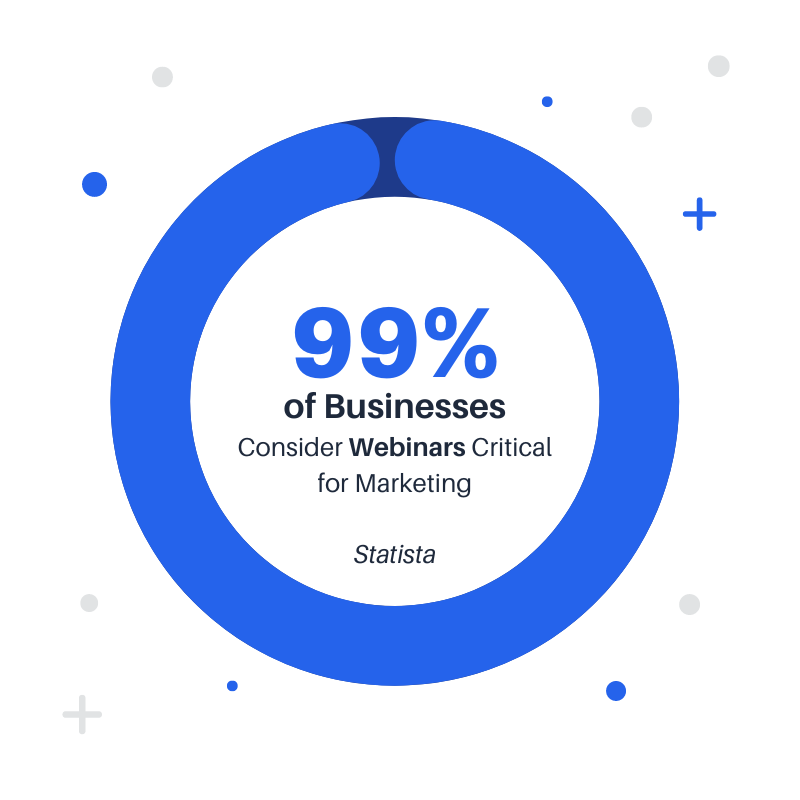 Before we explore the best ways to run your webinar on autopilot, let's take a look at how webinars have evolved over the years into a powerful tool for marketing your business and offer.
The Traditional Model: Webinars as Digital Lecture Halls
Initially, webinars were the digital equivalent of a lecture hall: a one-to-many communication tool that was essentially one-dimensional.
The role of attendees was largely passive; they were simply there to absorb whatever information the presenter decided to share. 
Interaction, if it occurred at all, was confined to brief Q&A sessions at the end.
Technology as a Game-Changer: The New Wave of Interactive Features
As technology progressed along with shifts in consumer behavior, so did the possibilities for engagement. 
Features such as live polls, real-time chats, and breakout rooms transformed webinars from simple online presentations to interactive events that engage, educate, and convert. 
Attendees weren't just passive recipients. They became active participants who contributed to the conversation.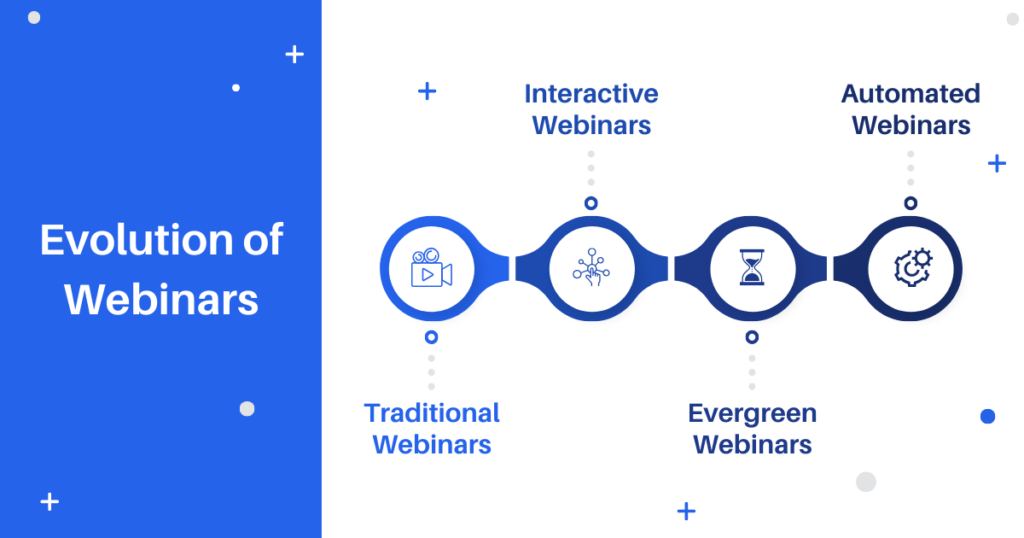 The Dawn of Evergreen Webinars: Scaling Reach Without Sacrificing Quality
Before we explore the interactive revolution in webinars, it's crucial to mention the groundbreaking introduction of evergreen webinars. 
Evergreen webinars are pre-recorded webinars that can be replayed indefinitely, allowing brands to maximize their reach without the logistical headaches of hosting live events repeatedly. 
Evergreen webinars contributed significantly to the webinar evolution by introducing the concept of "scalability," where one high-quality presentation could engage audiences across different time zones and schedules, effectively putting your webinar on autopilot.
Add in the advanced features we'll be discussing next, and evergreen webinars can potentially transform how your business grows.
Today's Webinars: Sophisticated Communication Capabilities Driven by Audience Behavior
Webinars are no longer simple online presentations. They are traffic machines that can do the heavy lifting of educating your audience and turning them into lifelong customers.
Webinars can be multi-faceted, interactive events that engage, educate, and convert.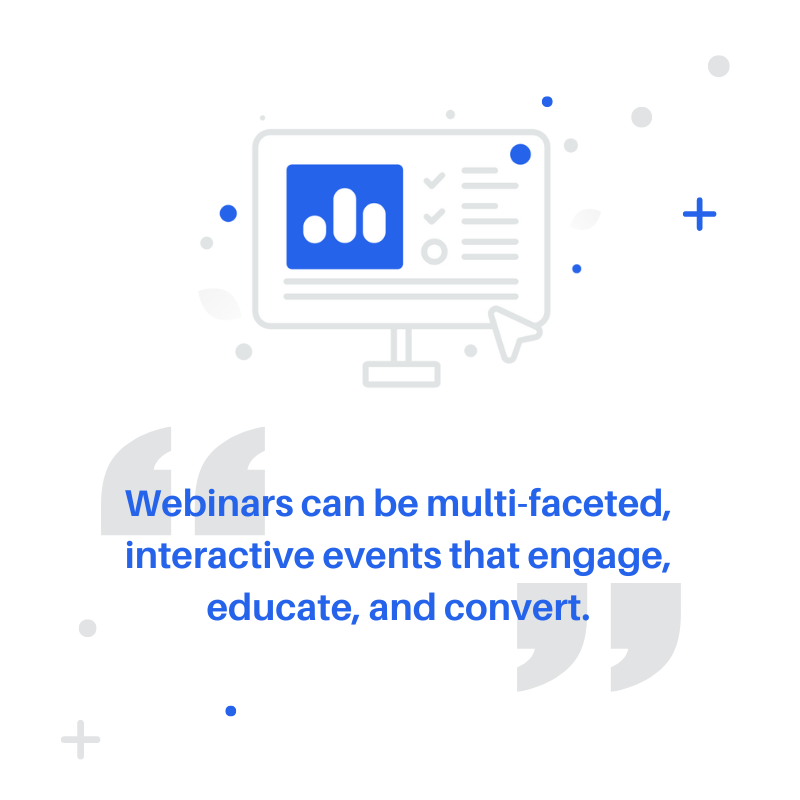 You can now reach your audience across the digital landscape and trigger specific engagement options based on their behavior. 
From multi-channel notifications like SMS and MMS, to emails based on how far they watched your webinar, your ability to engage your audience with automated webinars is greater now than ever before.
The Challenges of Live Webinars
While a great way to build your business, conventional or "live webinars" come with their own challenges. Planning, promoting, rehearsing, and delivering live sessions demand significant resources and take copious amounts of time.
The process is often fraught with uncertainties – technical glitches, scheduling conflicts, varying audience sizes, and more.
Below are some common challenges you may face when running a live webinar.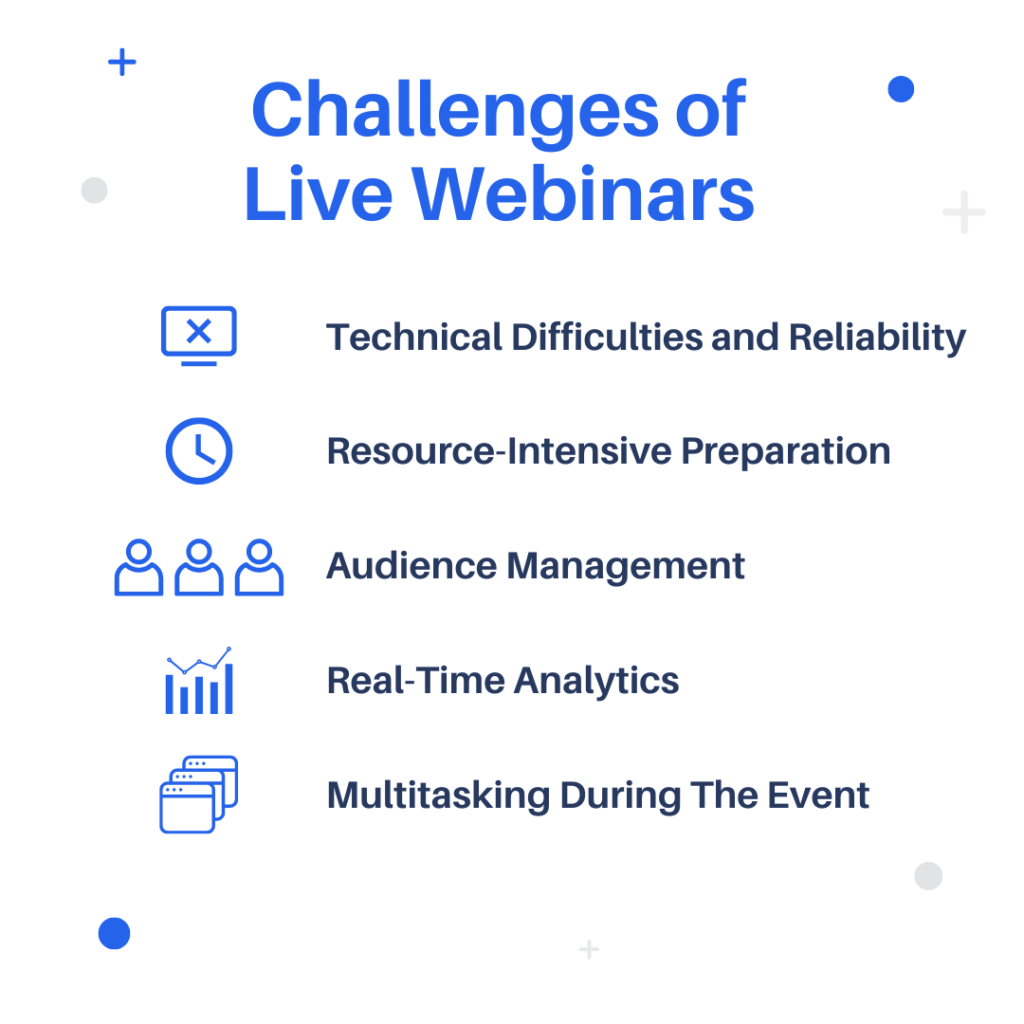 Technical Difficulties and Reliability
If you're using the wrong platform to host your webinar, you'll run into technical glitches that can derail your event before it even gets started. 
Even the most innovative features won't count for much if they're riddled with bugs or unusable. 
Real-time chats and live polls require a stable and reliable platform to be effective. When technical difficulties arise, they can quickly disrupt the conversation and leave attendees frustrated.
Resource-Intensive Preparation
Ask any seasoned webinar host; the amount of prep work for a live event is immense. 
Crafting content, coordinating with your team, setting up technology, and conducting rehearsals can eat up hours, if not days, of your time. 
Not to mention managing email sequences, messages, and other reminders that increase your show-up rates.
Sure, repeat events are usually less work to run. But they still require time and resources to be effective.
Managing a live audience is an art and a science. 
Segmentation, engagement tracking, and real-time interaction pose challenges in managing the flow of the event. 
The room for error is minimal. Miss one beat, and you risk losing the interest and attention of your attendees.
It's also tough to manage a live audience while you're presenting, even with a team in place!
While live webinars offer immediate interaction, gathering and interpreting data in real time can be overwhelming. 
As digital marketing professionals well know, actionable insights are critical for making informed decisions.
How do you know when to end your webinar? At what point is your audience most receptive to your offer?
Usually, the bulk of critical data points are only available after the live event (when your audience is logged off).
Multitasking During The Event
Juggling between hosting, managing the chat, launching polls, and keeping track of attendee engagement can be a Herculean task. 
You're not just a presenter but also a producer, moderator, and technical support provider.
If you have a team, they can lighten the load.
But you're still ultimately the one responsible for delivering the webinar. So while a team is great, you're only as good as your weakest team member.
Automated Webinars to the Rescue!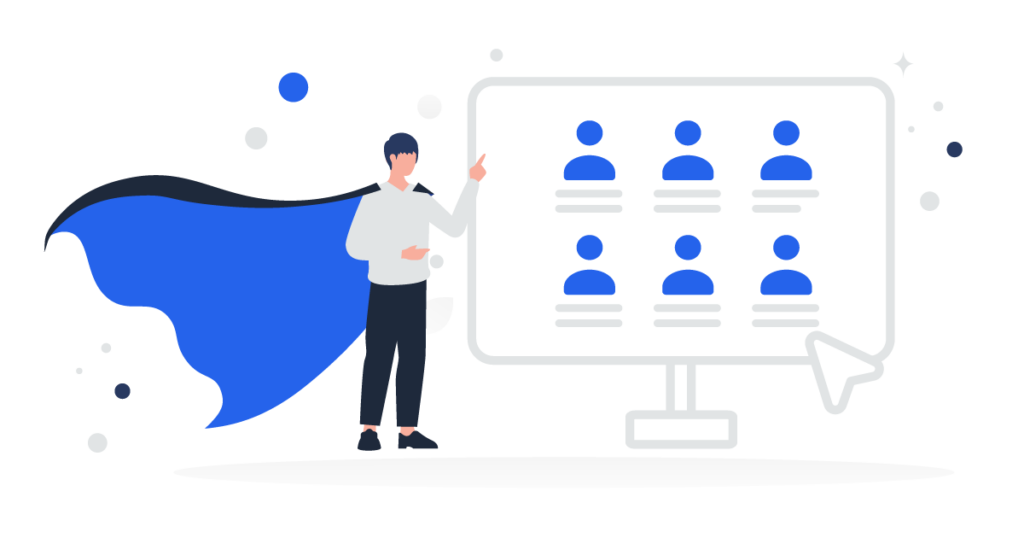 What are Automated Webinars?
Automated webinars offer a smart solution to the challenges posed by running a live event.
Automated webinars are on-demand, though our proprietary software delivers a more interactive experience than typically available with pre-recorded webinars.
You can think of an automated webinar as a webinar that's supercharged with real-time interactions.
For example, with AEvent's automated webinar tools, you can:
Send SMS text message reminders in the attendee's timezone to increase your show-up rates
Use multimedia messaging service (MMS) messages containing engaging media like GIFs
Leverage data insights to segment your emails based on how far into your automated webinar your audience watched
Target your audience based on their behavior; for example, you can identify attendees who saw your call-to-action but didn't buy
Automated webinars can integrate with your marketing tools and broadcast at optimized times to ensure maximum reach and engagement. 
You only need to prepare the content once; our technology does the rest. 
Keep reading if you're ready to harness webinars on autopilot for your business.
Why Use an Automated Webinar?
Automated webinars offer an unparalleled opportunity to increase your efficiency, show up consistently, and scale your reach more than ever before.
Let's explore some of the benefits of using automated webinars.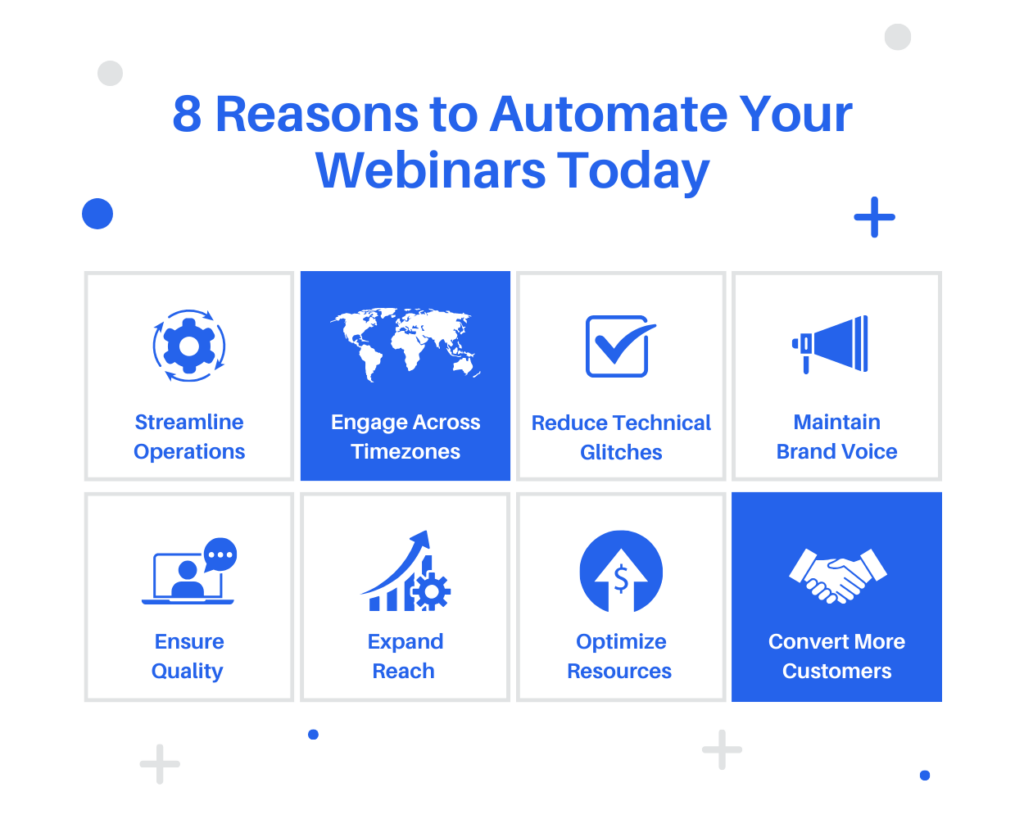 Autopilot webinars allow businesses to create a set-it-and-forget-it lead generation tool. Once it's up on our platform, automated webinar content continuously works for you.
One advantage of using AEvent is its user-friendly interface and intuitive nature. You can easily organize your online event without necessitating regular manual intervention.
2. Engage Across Timezones
One of the most significant challenges faced by international businesses is synchronizing their events with varied time zones. 
With automated webinars, you can effortlessly cater to audiences across the globe. This way, your message can reach your target audience regardless of geographical boundaries.
3. Reduce Technical Glitches
Live sessions are unpredictable. 
Connectivity issues or software glitches can interrupt the experience. 
Automated webinars can minimize such disruptions and offer a smoother experience to the attendees.
In a world flooded with content, maintaining a consistent brand voice is crucial for recognition and trust. 
Automated webinars ensure that every participant, regardless of when they join, receives the same message aligned with your brand's values.
Every time your webinar runs on autopilot, you eliminate the worries a live event brings with it. 
By automating the webinar and the technology that increases show-up rates and engagement, you reduce errors that can occur in live sessions, like missing essential points or a lackluster delivery.
As your business grows, so does the need to reach a wider audience. 
Automated webinars, unrestricted by the confines of live events, can be broadcast to an ever-growing audience without additional effort on your part.
Instead of repeating the same webinar, your team can allocate resources to creating new and more diverse content. 
This helps to drive engagement, and further establish your brand's authority in the market.
8. Convert More Customers
Ultimately, the goal of a webinar is to help your audience know, like, and trust you so that they ultimately become customers.
With automated webinars, you can get the same impact as a live event and deliver a truly exceptional event without putting hours upon hours into laborious tasks.
Running a Webinar on Autopilot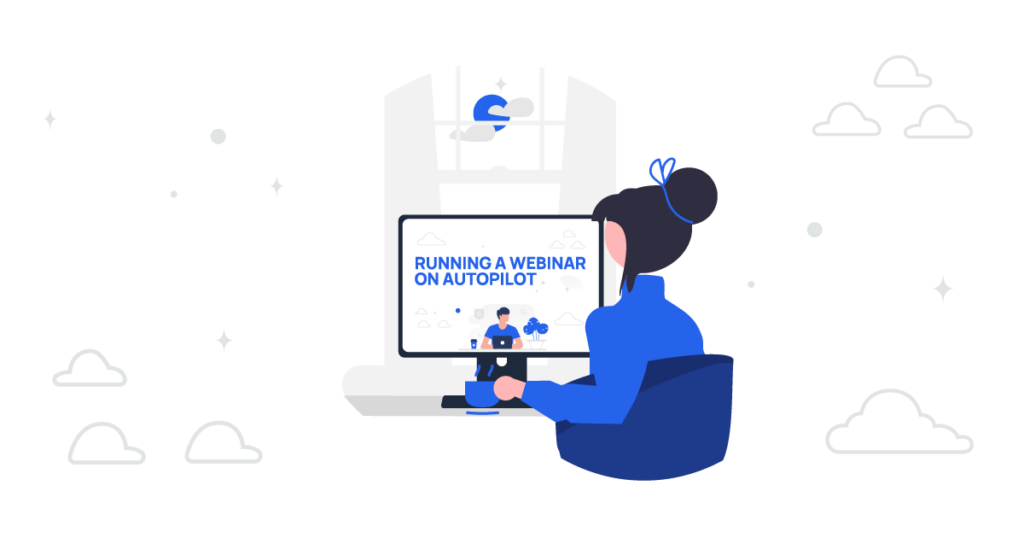 By pre-recording your content and using automated systems to distribute it to your audience at predetermined times, you can set up a webinar on autopilot. 
Here's how to configure your webinar on AEvent's platform.
Step 1: Sign Up for AEvent
There are multiple options for automating webinars. The best platform will fit your needs, budget, and goals.
Between AEvent's extensive native integrations and Zapier's capabilities, you can tailor your automated webinar experience to your exact needs.
If you're new to webinar automation platforms, AEvent provides comprehensive support and resources to guide you – from building your event timeline to scheduling your first webinar.
With AEvent, you'll have the confidence and tools necessary to embark on a successful and innovative webinar journey.
Step 2: Plan and Develop Your Content
Webinar content should be highly valuable to your audience. Your goal is not just to sell them something but to actually help your audience accelerate their desired outcomes.
This requires that you be intentional about your slides, messaging, and the value you offer. 
Your content must align with the interests and needs of your target audience. Anything less will fall flat.
Step 3: Record and Edit Your Webinar
Your webinar doesn't have to be perfect to succeed, but we recommend using high-quality tools to convey trust and authority to your audience.
The easiest way to predict the performance of an automated webinar is to test it via a live event. 
Then you can review what worked and what didn't so when you re-record, your webinar will be even more powerful.
After you've recorded your evergreen webinar, you can edit it and add visual elements to make it as engaging as possible.
Step 4: Upload Your Webinar
Now you're ready to upload your webinar!
If you're an AEvent customer, you'll appreciate how easy our intuitive interface makes it to upload and manage your webinar content. 
Follow our guidelines to upload your media files to AEvent.
Step 5: Schedule Automated Broadcasts
Most platforms allow you to schedule the playback of your recorded webinar as if it were a live event. You can also set up multiple times to cater to different time zones.
Within AEvent, you can choose specific dates and times for your automated webinar broadcasts. Visit this guide to learn how to set this up.
If you prefer to create an on-demand event that runs every 10 minutes or so, you can also do that with AEvent. Visit this guide to learn more.
Step 6: Configure Automated Emails
Create a series of email reminders to notify your audience about the upcoming webinar broadcasts. These emails should include the date, time, and link to access the webinar.
AEvent's email automation feature ensures timely and targeted communication. You can create dynamic email campaigns directly inside the platform both pre-event and post-event. This helps with generating maximum engagement and conversions.
You can even use AEvent's SMS/MMS capabilities to schedule text or multimedia messages to coordinate with your email automation.
Prior to the scheduled broadcasts, thoroughly test your automated webinar. Join as an attendee to experience the webinar from your audience's perspective. 
Ask a friend or team member to preview your webinar too. Not only does this help with ironing out any potential bugs that may arise, but it lets you get input on the quality of your webinar as well.
The goal is to ensure a smooth experience for your viewers.
Step 8: Monitor Engagement and Interact
Of course, one of the challenges of traditional webinars is maintaining engagement throughout the session. AEvent's personalized messaging and images feature addresses this head-on. 
During the scheduled automated broadcasts, you can monitor any chat or Q&A messages. This lets you engage with your audience in real-time as they watch the recording.
You can also see where your audience dropped off. This feature is extremely valuable because if you notice trends in audience behavior, you can update your webinar accordingly to enhance your conversions.
Step 9: Implement Follow-Up Sequences
After the webinar broadcasts, set up automated follow-up sequences. 
For example, you can send post-webinar emails containing the recording, additional resources, and calls to action. 
Following this nurturing process helps convert attendees into leads and customers.
Automate Your Webinars with AEvent
Running webinars on autopilot has never been easier, thanks to AEvent's advanced event and communications automation platform.
By using AEvent, you're not just automating tasks – you're elevating the entire webinar experience. You'll be able to create exceptional content while maximizing your costs and online resources.
Book your demo today to experience the AEvent difference.