Webinars serve multiple purposes – from knowledge-sharing sessions to detailed product demonstrations.
But with the volume of content online and people's fast-paced lives, not everyone can attend these live sessions. 
This is where webinar replay emails can help. They are a second chance for your audience to watch the webinar again.
While they function mainly as reminders, replay emails also bridge any gaps so your audience stays in the loop and feels valued.
This article will show you how to write replay emails so you (and your audience) get the most out of your webinar.
How Replay Emails Increase Your Webinar's ROI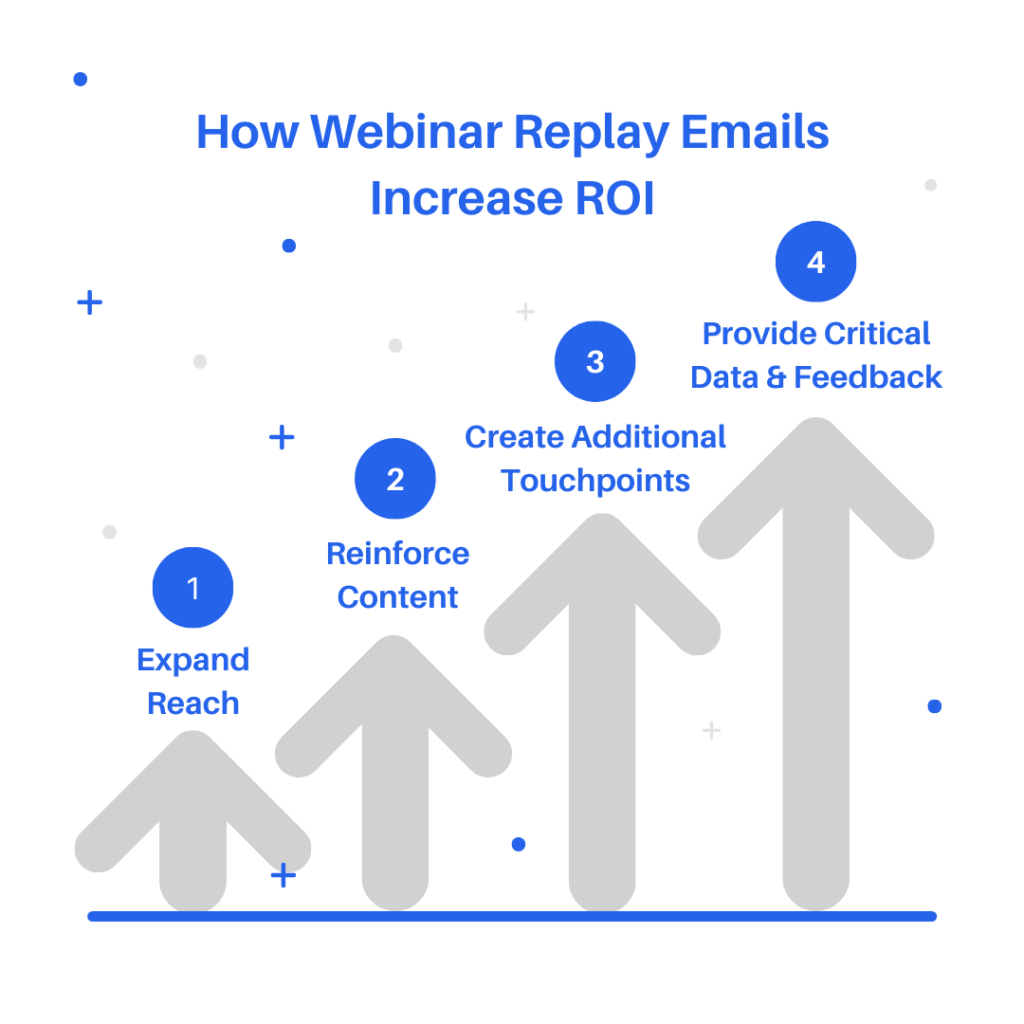 Hosting a webinar requires a significant amount of time and resources. You need to prepare content, manage logistics, and promote the event. 
It's only logical that you would want to maximize the return on your monetary and time investment.
While live sessions play a big part in this, your post-webinar strategy is just as important especially when it comes to webinar replay emails.
Here's how they can help increase your webinar ROI.
No matter how comprehensive your promotion strategy might be, there will always be interested individuals who can't attend the live session. 
The reasons could be conflicting schedules or last-minute disruptions.
In fact, the usual registrant-to-attendee conversion rate sits just around 35% to 45%.
Replay emails expand the reach of your content to a broader audience and maximize your webinar's initial value. 
Even if a registrant misses the live session, they can always tune in to the encore event.
Sometimes, attendees might want to revisit certain webinar sections for clarification or to share with their peers. 
Providing a replay allows for this reinforcement. This not only helps with content retention but also amplifies its impact.
Over time, it can even lead to enhanced brand loyalty and reputation.
Opportunities for Further Engagement
By attaching additional resources, recommended readings, or even teaser content for upcoming webinars in the replay email, you create avenues for deeper engagement. 
This extended interaction creates stronger relationships and increases the chances of conversions.
Offering bonus content can raise conversions from 0.54% to 4.82% in just one day.
Analytics and Feedback Collection
Replay emails can give insights into which parts of the webinar were revisited most, how long attendees engaged with the content, and more. 
Data like this is invaluable for refining future webinars so they are even more aligned with audience needs.
If your webinar platform doesn't offer robust analytics options, consider switching to AEvent, where you can see critical information about your audience's behavior.
Webinar Replay Emails by Target Audience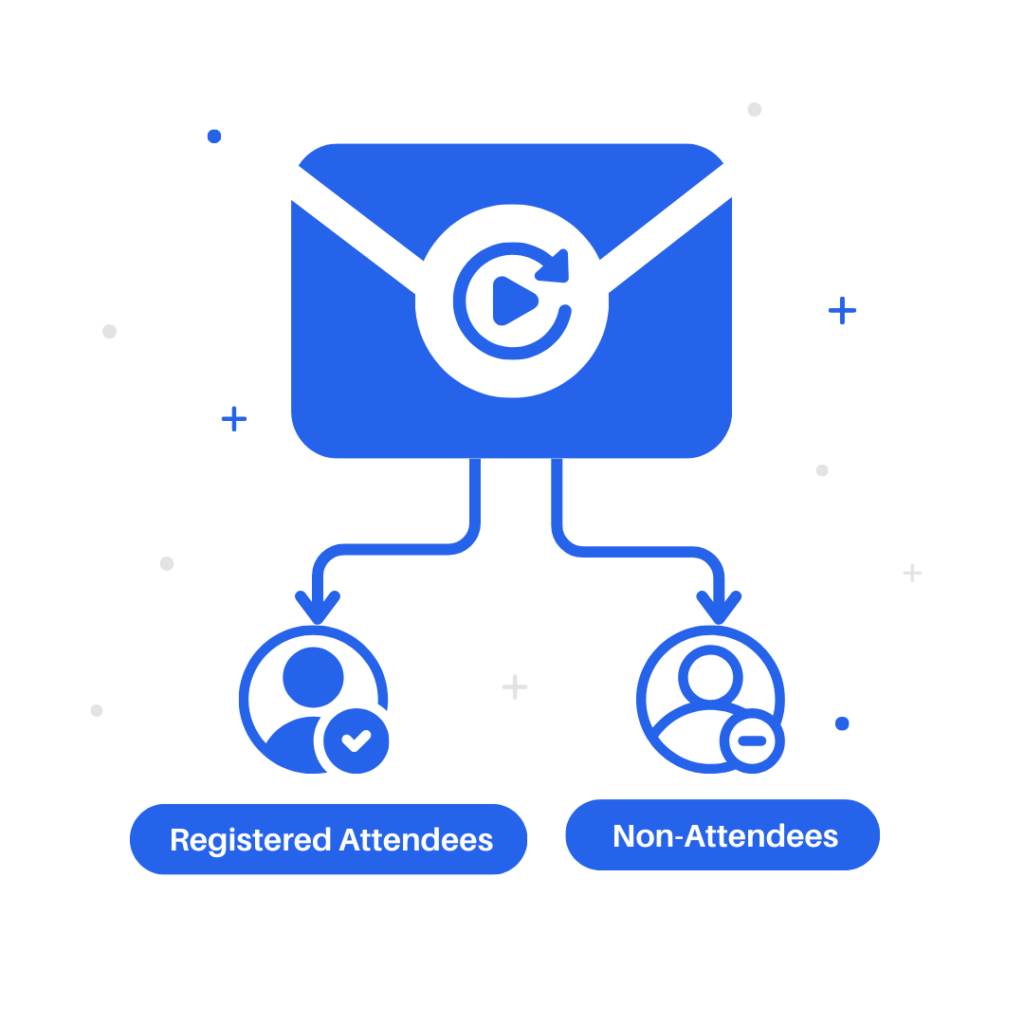 As with any other content you post, context matters. 
Depending on who you're reaching out to, the tone, content, and call-to-action of your webinar replay email might vary. 
These are the 2 common scenarios when you want to send out your post-webinar emails:
These individuals responded to your webinar registration email and attended the live session. 
They engaged in real-time, and now you're offering them a chance to revisit that experience.
Attendees often take mental or written notes during a webinar, but having access to the entire session allows for a more thorough review.
Offering a replay ensures they fully capitalize on the content and overall value they got from the session.
This group consists of those who registered with the intention to attend but missed the live event. When reaching out to them, acknowledgment and understanding are key.
Let them know that you recognize their interest and are willing to share the webinar's content.
This shows your commitment to your audience's learning journey.
Here is a webinar replay email template for non-attendees:
[TEMPLATE]
Subject: mind… BLOWN
Hey [FIRSTNAME],
Our event was "amazing" (to quote an attendee), so much so that due to request we've decided to hold one more encore event!
You're already registered, all you need to do is show up to learn.  We've been getting emails all morning from folks who want to make sure they've secured a spot to our life-altering entrepreneurial ENCORE presentation.
Here's a sneak-peak of what you're going to learn:
[VALUE CONTENT #1]
[VALUE CONTENT #2]
[VALUE CONTENT #3]
[VALUE CONTENT #4]
[VALUE CONTENT #5]
And More…
Do your dreams a favor and make a POINT of being on the encore.
It's at [TIME] sharp, so block off some time, grab yourself a coffee and a notepad and pen…
And get ready to have [BENEFIT/OUTCOME FROM WEBINAR] 🙂
Here is YOUR personalized link when it's time to join!
[LINK]
See you there,
[NAME OF WEBINAR HOST]
P.S. What we're teaching (and DOING) is not rocket science… (in fact, I don't think rocket scientists actually get paid nearly this well 😉
Creating a [BENEFIT/OUTCOME FROM WEBINAR] is getting easier and easier every day — especially when you use a strategy like our [UNIQUE STRATEGY/TECHNIQUE]…
And right now you're only a few clicks away from [BENEFIT/OUTCOME]…
The [UNIQUE STRATEGY/TECHNIQUE] puts you in complete control of your [PROBLEM]…
And on today's encore presentation, you'll learn how to make it happen.
Don't miss it. The presentation is happening at [TIME]
[END OF TEMPLATE]
Five Steps to Writing Effective Webinar Replay Emails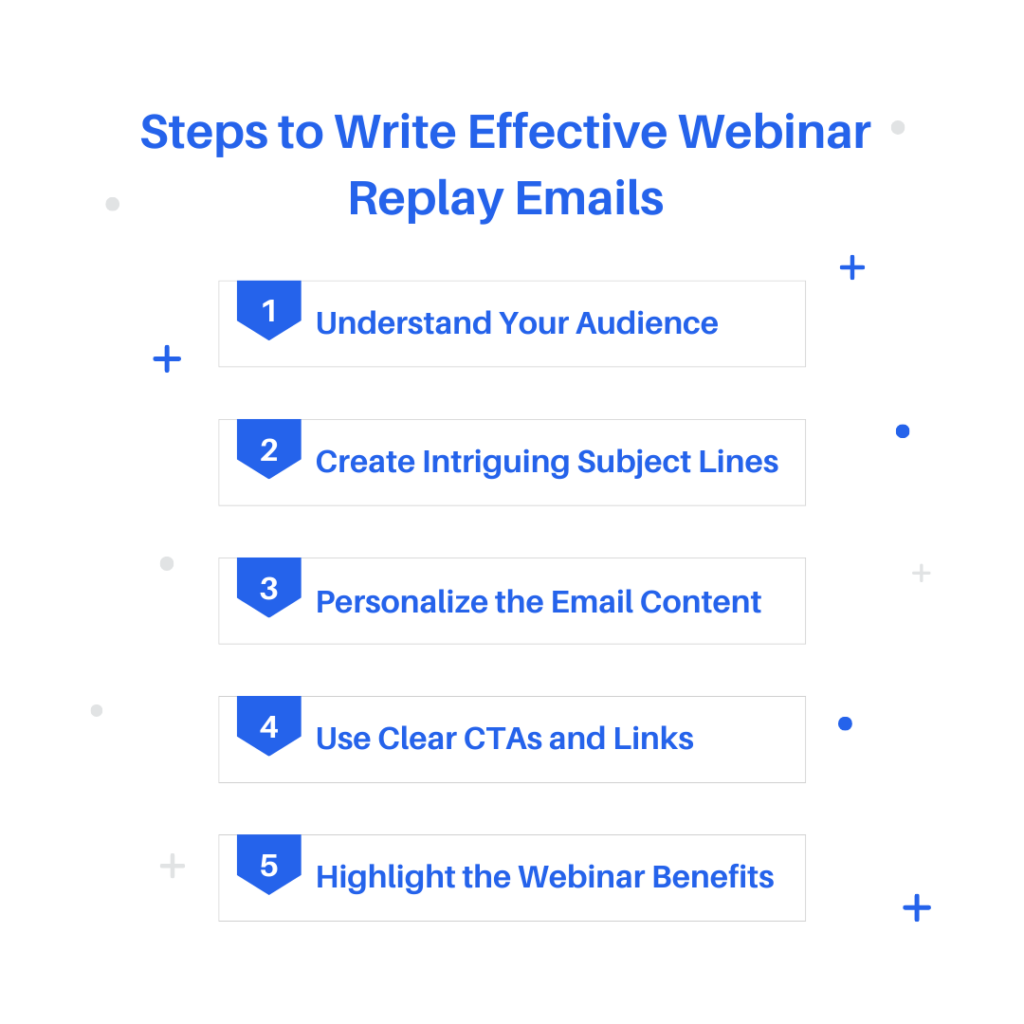 Crafting a webinar replay email is not just about sharing a link to a recorded session. It's an exercise in continuing the conversation with your audience. 
The email needs to capture attention, convey value, and prompt action. 
To achieve this, you need to know what steps to follow when writing your emails.
Step 1: Understand Your Audience
Before you start writing, take a moment to reflect on who your audience is and what they're looking for.
Did they attend the live session and are looking for a recap? Or did they miss the live event and need a way to catch up? 
Knowing your audience's their helps you tailor your message to resonate more with their individual motivations.
For instance, recognizing a registered attendee's prior engagement can add an extra layer of personalization to your message.
Step 2: Create Intriguing Subject Lines
Your subject line is the first impression and possibly the deciding factor on whether your email gets opened. 
It needs to capture attention while conveying the essence of the content. 
Phrases like "Revisit the Highlights" or "Missed Our Session? Here's Your Replay!" offer clarity while sparking curiosity.
The goal is for the reader to click on your email instead of leaving it unopened in their inbox.
Step 3: Personalize the Email Content
Beyond addressing the recipient by name, personalize your emails to make them feel genuine. 
Reflect on any past interactions or expressed interests. 
Maybe they asked a poignant question during a previous webinar, or they've shown interest in a specific topic in the past. 
Use specific behavior information like emails they've opened or how far into your webinar they got.
Including these details in your email makes your content resonate and strengthens the connection with your audience.
Step 4: Use Clear CTAs and Links
Your call-to-action (CTA) should be unmistakable. 
Whether you're prompting them to watch the replay, download related resources, or sign up for an upcoming session, your CTA should stand out.
A well-placed CTA button can improve your email click-through rates by up to 127%.
Equally important is making sure that any links, especially the one to the webinar replay, lead to the right page. 
Nothing interrupts the user experience more than a broken or hard-to-find link.
Step 5: Highlight the Webinar Benefits
The main goal of a replay email is to offer a chance to view the webinar again. But it's also your chance to emphasize the benefits of doing so. 
Is it a deep dive into the latest industry trends? Does it offer actionable strategies or insights from top experts? 
By clearly stating what attendees stand to gain, you elevate the replay from a mere recording to a valuable learning resource.
Tips to Improve Open Rates and Drive Engagement with Replay Emails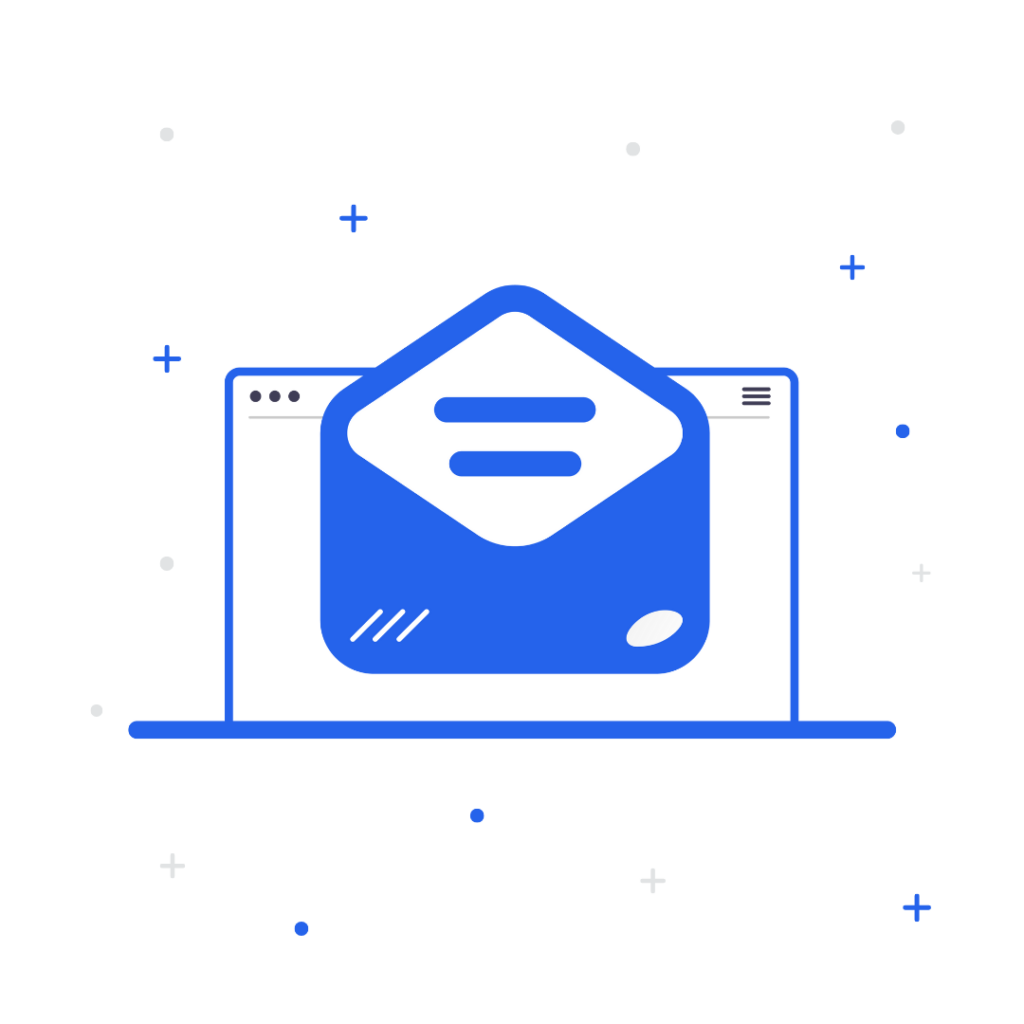 Every replay email serves as a bridge between your brand and the recipient. It also reiterates the importance of the insights shared during the webinar.
If your valuable email content goes unnoticed, it's a missed opportunity.
So, you want your audience to open your webinar replay email and click on the link.
To maximize the impact and drive genuine engagement, consider the following tips and strategies:
Consistency and timeliness are a priority in email communications. 
Leveraging webinar automation tools ensures that your webinar replay reaches your audience at the right time.
AEvent for instance has an integrated email automation feature that lets you create pre-webinar and post-webinar email sequences.
By setting up a system where emails are dispatched automatically at a set time and date, you ensure that the webinar remains fresh in the minds of the recipients.
Plus, it reduces the manual effort so you can focus more on refining content and analyzing results.
While automation takes care of the dispatch, it's crucial to determine the best time to send out your replay emails. 
Think about your audience's likely schedule. 
If you're targeting working professionals, a replay email sent mid-morning on a weekday might garner more attention than one sent late on a Friday afternoon. 
Understanding your audience's behavior and preferences can make a significant difference in your email's open rates.
Use a Webinar Follow-Up Sequence
Instead of relying on a single replay email, consider creating a sequence of follow-up emails. 
The initial email can offer the webinar replay, while subsequent emails might highlight specific sections, share related resources, or even tease upcoming webinars. 
A well-thought-out sequence keeps the conversation going, continually reminds the recipient of the value you offer, and encourages repeated engagements with your content.
Driving Engagement Through Effective Webinar Replay Emails
With a well-written webinar replay email, you create a lasting impression and solidify your audience's connection to your content.
AEvent offers the ideal platform for you to schedule and send your replay emails. 
Its advanced email automation features, complemented by SMS/MMS capabilities, help make sure your emails reach the right audiences. 
Don't let your efforts go unnoticed. Capitalize on the opportunities offered by webinar replays to engage your webinar attendees. 
Take the first step towards transforming your webinar communication strategy. Book your demo with AEvent today.