Capturing and retaining audience attention is no small feat. With overflowing inboxes and constant notifications, your message can easily be lost. 
Getting participants to not only register but also show up for your webinar is the real challenge. The solution? 
Creating a compelling webinar opt-in sequence. 
A powerful email sequence can transform passive registrants into active participants who fill your live event.
Let's look at how to create an opt-in sequence that not only reminds but also entices your webinar registrants every step of the way.
What is a Webinar Opt-in Sequence?
A webinar opt-in sequence is a series of emails sent to potential attendees after they've registered for your webinar. 
But to describe it as a "reminder system" would be an understatement. 
This sequence builds a connection with participants, creates excitement, and reinforces the value of your webinar.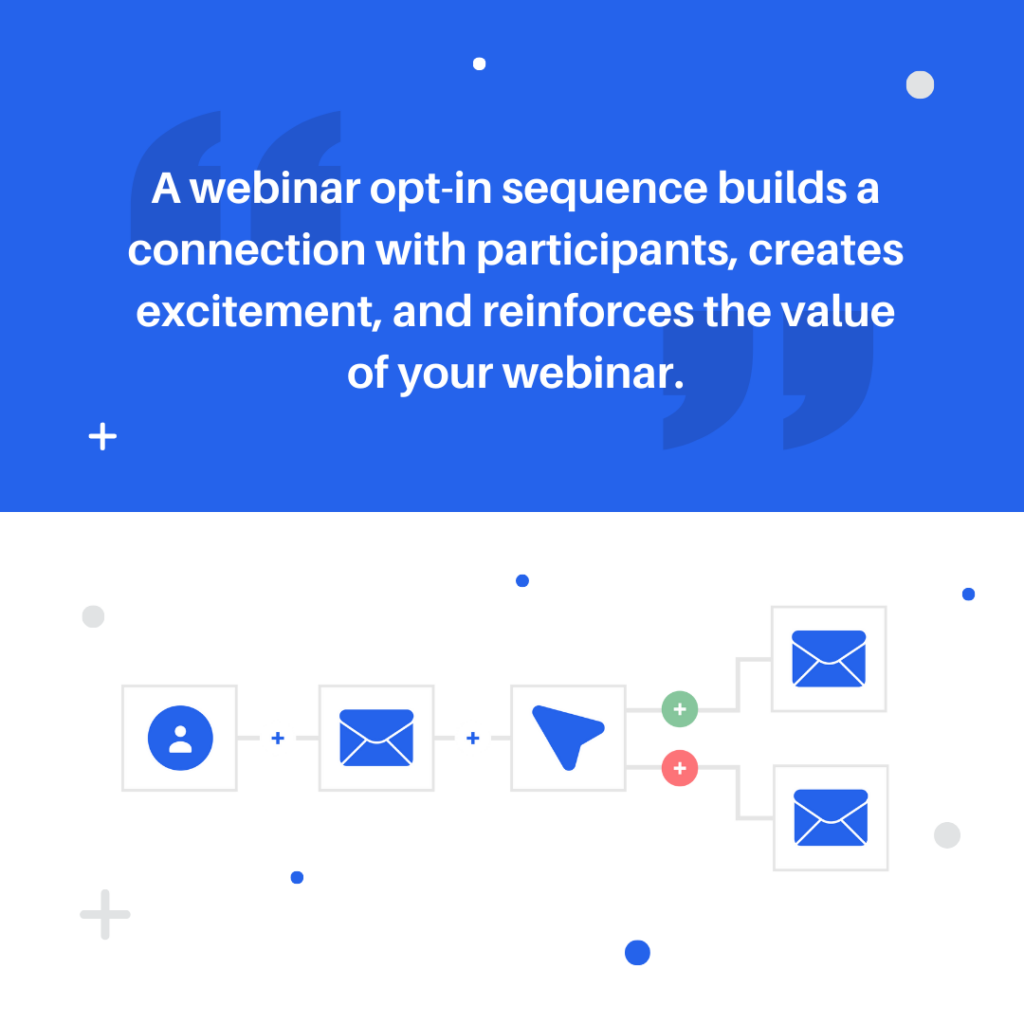 Each email serves a distinct purpose–whether it's addressing potential objections, showcasing the benefits of attending, or setting the stage for the event.
It also provides attendees with all the details of the event, like the date, time, and sign-in link. 
This keeps your audience well-prepared and motivated to join.
Why an Opt-in Sequence Matters
Registering for a webinar doesn't necessarily translate to attendance. In fact, the average webinar attendance rate hovers at a paltry 44%. 
This means that even if you have hundreds of registrations, you could be looking at a half-empty virtual room.
An opt-in sequence helps solve this problem. It serves 4 key functions:
1. Reaffirmation
Once attendees sign up for your webinar, the opt-in sequence reinforces its benefits so they remember why they signed up.
Highlighting the value you're offering strengthens their initial decision to register.
2. Building Anticipation
By including teasers or sneak peeks in your webinar email series, you can make attendees more eager to join.
You're activating people's curiosity so they won't want to miss out on the presentation.
3. Eliminating Hurdles
Providing details on how to join, what tools or software are needed, or even time zone conversions removes potential barriers to attendance.
Your webinar opt-in sequence helps your audience to have a seamless experience from registration to participation. 
4. Creating a Two-Way Street
Valuable content, surveys, or Q&A opportunities within the sequence can foster two-way communication. This makes registrants feel more involved and valued.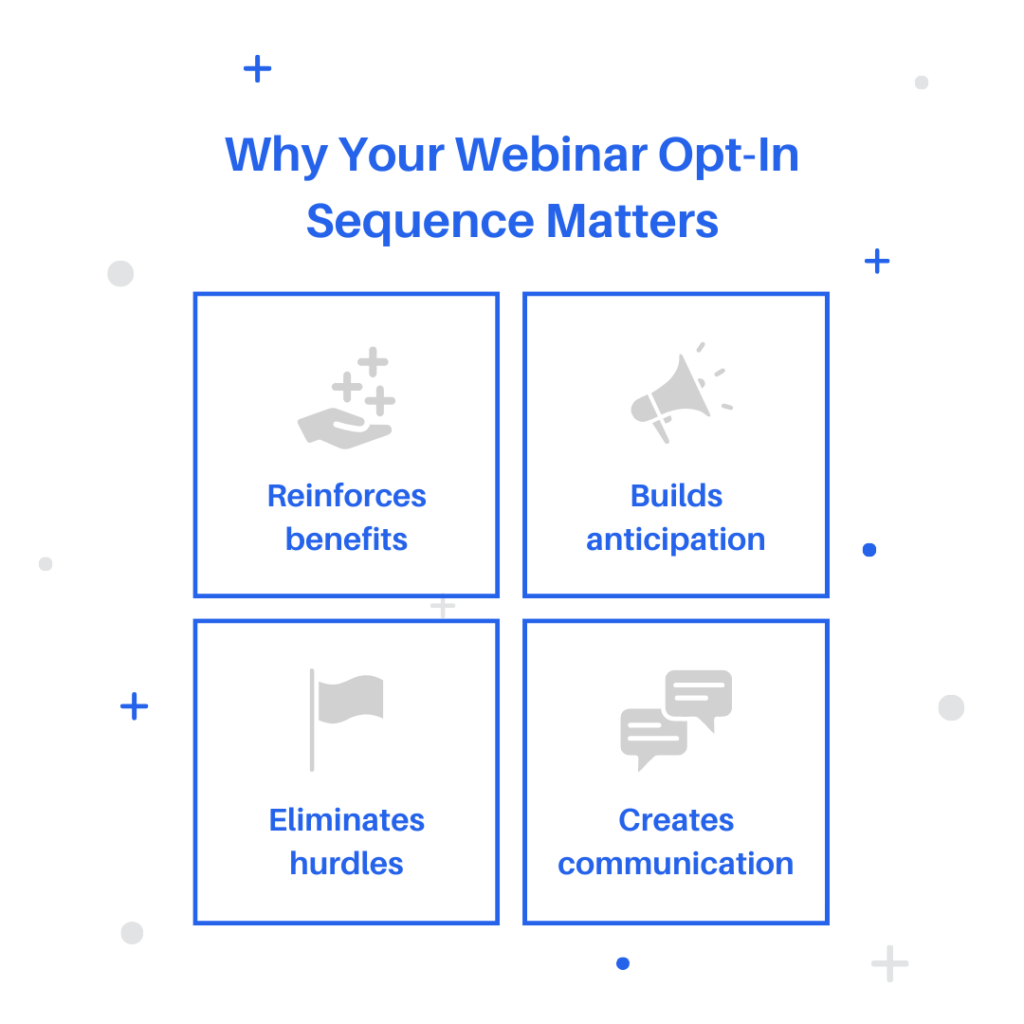 It's Not Just About the Numbers
While boosting your webinar attendance rate is the main goal, there's a deeper value that an opt-in sequence brings. 
It's about quality over quantity. 
Engaged attendees who see value in your content are more likely to interact, ask questions, and even convert to customers or clients post-webinar.
These individuals can become ambassadors for your brand and share their positive experiences with their networks.
Fostering a deeper connection before the webinar also primes attendees to absorb and resonate with your message. 
This can lead to higher retention rates and more meaningful discussions during the session.
Components of a Webinar Email Opt-in Sequence
Even the most valuable content can get lost without an effective communication strategy in place.
And the same is true for webinars.
You need a well-crafted email sequence to keep your audience engaged and informed until the event begins.
These are the 4 components that make up your webinar opt-in sequence:
Introduction/Welcome Email
The introduction or content email serves as the foundation of your webinar opt-in sequence. 
This is sent a few days after the webinar registration email, especially if there's a considerable gap between registration and the webinar date. 
Its main purpose is to warm up the attendee, provide value, and introduce them to the topic or presenter.
This initial touchpoint is also a good opportunity to position yourself or the presenter as a credible authority by sharing insights, data, or thought leadership.
For instance, a relevant article can offer deeper insights or a broader context. 
A short video could give a glimpse of the topic's significance. Or an infographic can visualize complex data related to your theme.
[EXAMPLE]
Subject: (read now) important info about your training
Hey FIRSTNAME,
Congratulations on claiming your seat for the upcoming training: "How to Launch Your Email List Business in a Weekend."
Below are your event details:
Date: 
Time:
You were sent your private access link to the live training was sent in a separate email as soon as you signed up, but should you need it, it is: JOINLINK
In the meantime, Winter and I have put together a special little 3-part video series for you called, "The Email Profit Quick Start Training."
You want to get started on this little training right away because we share the exact formula that launched a $14,000 per month income stream in under 90 days.
Video #1 is just 7 minutes long.
And on it you'll hear…
* How the "L3 Cloning Method" is allowing first-time online business owners to launch and grow a profitable email list in as little as 48 hours. (Even if you're just getting started, currently have nothing to sell, or you're not a "tech wizard").
* Watch the inspiring Triumph and Tragedy story of Winter's $90,000 pay day. "It was one of the worst days of my life."
* The little-known investment that is producing returns of 4,400%. And how you can escape the "time for money trap" using this low-risk wealth-building strategy — even if you're starting with a small budget.
As well, when you go to watch Video #1 you'll find the private "Email Profit Action Guide" (PDF) I want you to download and save for the webinar.
We'll be using it on the webinar together as I walk you through the exact strategies we're currently using to launch 7-figure online businesses.
* Please do NOT share this action guide with anyone else
It contains my proprietary method for launching a new email list business in just 48 hours. And it's just for the folks — like YOU — that are action-takers and were able to grab one of the available seats for this training event.
To watch Video #1 and grab your Action Guide – go here.
Talk soon,
Tim T
P.S. Pay close attention to what you'll see in Video #1 at the 2 minute and 4 second mark.
It's possibly the most important content shared in your little video training series.
Go here to watch Video #1 now.
[END OF EXAMPLE]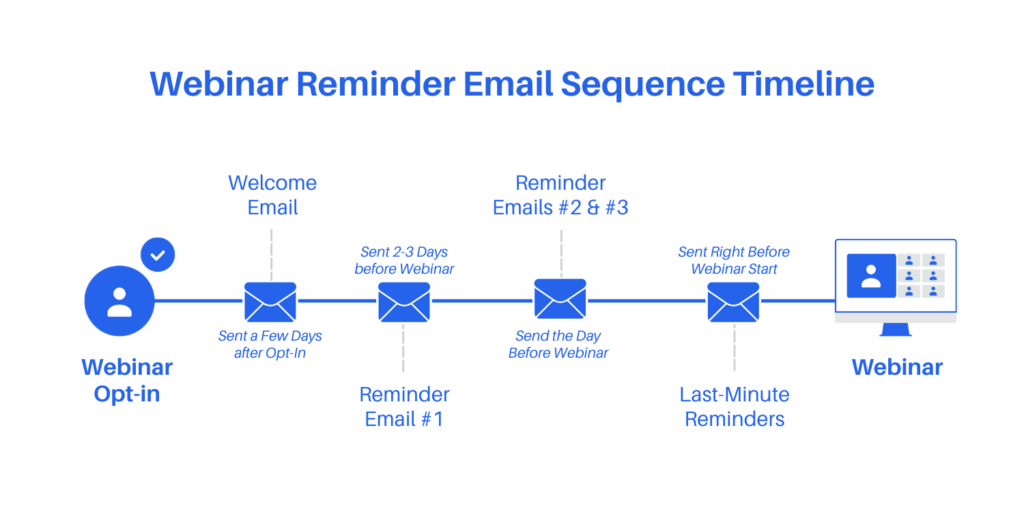 The first reminder email in your opt-in sequence strikes a balance between reinforcement and building enthusiasm. 
Sent a few days before the webinar, this email is perfect for those who might have registered well in advance and could use a refresher.
While the primary purpose of this email is indeed to remind attendees of the upcoming session, you can use it to reinforce their commitment to attend. 
In the email, start with a brief recap of the webinar details, such as the date, time, and key takeaways.
This jogs their memory and makes sure they have the essential information to join.
[EXAMPLE]
Subject: [Video 2 of 3] – The "TM Method" creates $14k in 90 days
Hey FIRSTNAME ,
We're just 2 days away from your live training: "How to Launch Your Email List Business in a Weekend"
Reminder: Below are your event details:
Date: DATE
Time: TIME
As promised, today you're getting access to Video #2 of your little "Email Profit Quick Start" Training.
On this video you'll hear…
* The "TM Method" that created a $14,000 per month income stream in less than 90 days (with zero money spent on advertising)
* The no-lose way to take advantage of "The Attention Economy.
* How Winter went from a minimum-wage food-delivery job to creating two 7-figure online businesses
This is a must-watch video if you're struggling to escape the "time for money" trap and you're frustrated with hitting an income ceiling in your job or business.
Plus, you'll be finished watching it in a quick 6 minutes.
To watch Video #2 – go here.
(If you didn't get the chance to watch Video #1, you can do that right from the webpage above).
Talk soon,
Tim T & Winter
P.S. Remember… make sure to watch this short video series prior to attending the LIVE training event that starts in just two days.
P.P.S. There's a reason what you'll hear on Video #2 is working like crazy right now for busy folks to quickly create an online income stream (even if you have a small budget or you have very little time).
So pay close attention to when I talk about the "TM Method" 🙂
To watch Video #2 – go here.
[END EXAMPLE]
Reminder Email #2 (and #3)
The second (and third) reminder email, sent a day before the event, keeps the webinar at the forefront of your audience's minds.
The proximity to the webinar date means that this email has to be both informative and action-driven. 
For attendees who may have multiple commitments, this is your chance to secure a slot in their day.
Begin the email with a direct, yet engaging, reminder of the webinar's timing. "We're excited to see you tomorrow!" or "Just one day to go!" can be effective openers.
The first email reminder might have teased some content. This email should emphasize the immediate advantages attendees will gain.
Think along the lines of, "Discover the latest strategies…", "Gain insights into…", or "Learn from industry leaders…"
Even if they've been mentioned before, answering frequently asked questions, especially about logistics or tech requirements, is also helpful. 
This not only reduces potential friction but also reduces the likelihood of last-minute troubleshooting.
[EXAMPLE]
Subject: [Video 3 of 3] – your confidence
Hey ,
(NIFTYIMAGES COUNTDOWN TIMER)
As you can see the countdown is on, and tomorrow is the day of your live training: "How to Launch Your Email List Business in a Weekend"
Reminder: Below are your event details:
Date: 
Time:
As promised, today you're getting access to Video #3 of your little "Email Profit Quick Start" Training.
On this video you'll hear…
* A simple technique for launching your email list business with CONFIDENCE (even if you haven't made one dollar online yet)
* How a busy husband and father from Kentucky built a list of over 1,000 subscribers — and made his first online sale — within one week of attending the "Launch My Email List Business In A Weekend" Training event
* The secret for building "wealth momentum" and avoiding the most common money mistake I see new business owners make
This is a must-watch video if you've wanted to create an online income stream in the past but you found yourself getting frustrated or overwhelmed in the process.
Plus, you'll be finished watching it in just 4 minutes.
To watch Video #3 – go here.
(If you didn't get the chance to watch Videos #1 or #2, you can do that right from the web page above).
Talk soon,
Tim T & Winter 
P.S. Get excited for the LIVE online training event that is happening tomorrow. Make sure to watch this training on your computer (and NOT your phone or tablet) so you get the most value from this event.
P.P.S. To watch Video #3 of your "Email Profit Quick Start" Training — go here.
On this video, we'll be sharing one powerful tip that will allow you to launch your business with CONFIDENCE… and help get you results fast. Enjoy 🙂
[END EXAMPLE]
Given how close it is to the event schedule, your last-minute emails should be concise, focused, and incredibly actionable.
You want to send these a few hours and a few minutes before your webinar starts.
Subject lines like "We're Starting Soon!" or "It's Almost Time!" immediately grab the participant's attention.
Unlike the first few emails in your opt-in sequence which have been packed with content, this reminder should prioritize ease of access. 
You want attendees to click and join without difficulty. Consider placing the webinar link within the first few lines of the email for maximum visibility.
The emphasis here is on brevity and immediacy while still highlighting your webinar's benefits. 
A quick recap like "Don't miss out on groundbreaking insights about [topic]" or "Join us for exclusive tips and strategies!" reminds registrants of the value they'll get.
For those who might be unfamiliar with your chosen webinar platform, provide simple instructions. 
For example: "Click the link, enter your email, and you're in!" This eliminates any last-second confusion.
Finally, adopt a warm tone in your email. Encourage registrants with phrases like "See you inside!" or "We're eager to have you with us!" so they'll feel more valued.
[EXAMPLE]
Subject: coming?
Hey ,
Winter is just opening up the LIVE event room and we're getting started in just a few minutes.
Join us now and send us a message in the comments so we know you were able to log on
JOIN LINK
Make sure to join from your main computer (and not your phone or your tablet) so you get the full experience on "How to Launch Your Email List Business In a Weekend."
We'll see you there,
Tim T
[END EXAMPLE]
Best Practices for Creating an Effective Pre-webinar Email Sequence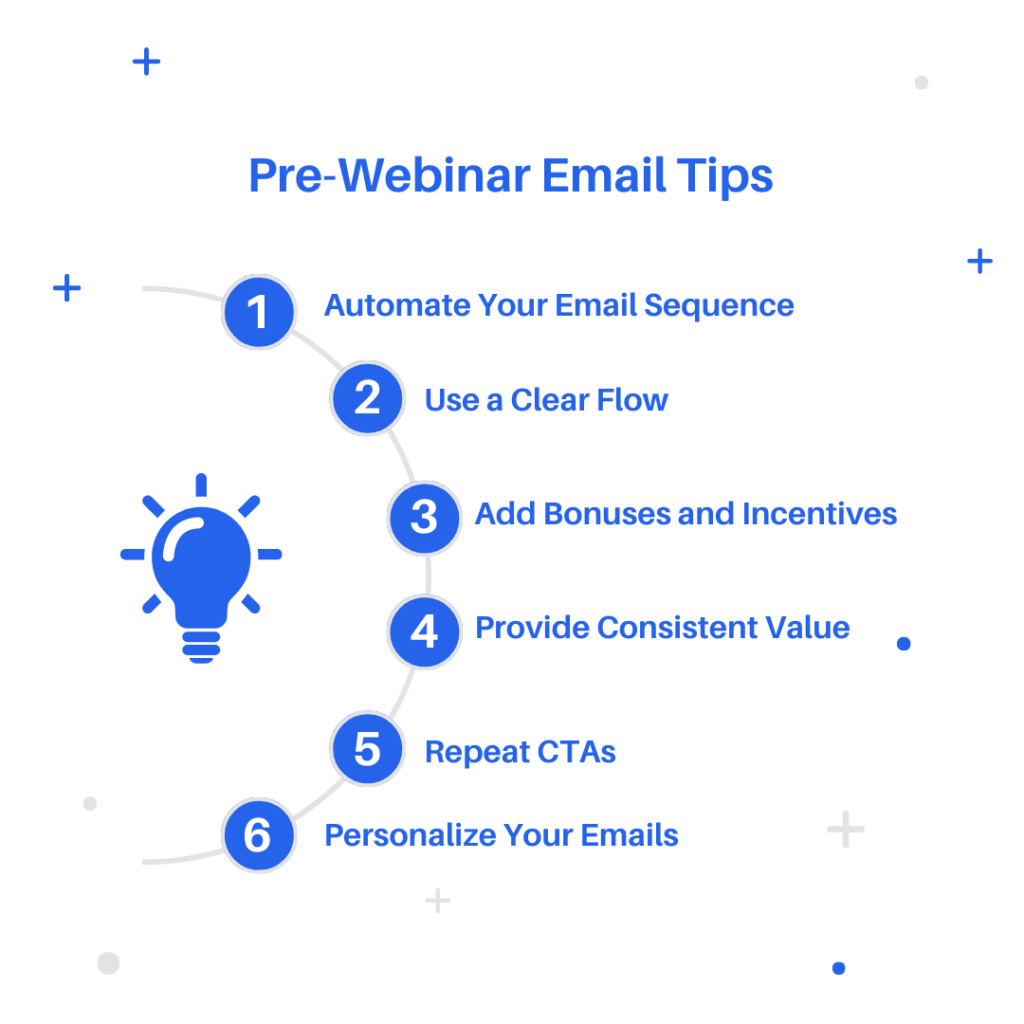 Even if you have all the parts of your webinar opt-in sequence ready, there's a chance you still might miss the mark.
Perfecting your sequence involves understanding your audience's needs, anticipating their questions, and addressing any potential hesitations they might have. 
Here are some tips to keep in mind when crafting your pre-webinar email sequence.
Automate Your Email Sequence
Automating your webinar email opt-in sequence helps with consistency, timeliness, and optimizing engagement with your audience. 
It reduces the margin of error so each participant gets the right notifications at the right time.
AEvent for example, offers a robust email automation feature that streamlines the creation and delivery of your webinar opt-in sequences. 
The platform's integrated SMS/MMS features can also be synced with email reminders, providing a multi-channel approach to reach your audience wherever they are.
By leveraging these features, not only can you maximize attendance but also save valuable time and resources in the process.
Every great story has a beginning, middle, and end, and your email sequence should be no different.
Consider your audience's journey: from initial intrigue, to considering the benefits, to making the decision to attend.
Start with a warm and inviting welcome that acknowledges their interest, followed by educational content.
As the webinar date gets closer, boost their anticipation with timely reminders.
It wouldn't make sense to overload your attendees with content right before the webinar when they should already be prepped and ready to listen.
By crafting a clear narrative flow, you keep participants informed and eager to be part of your event.
Each email in your sequence offers or reminds of some form of value, right from the moment attendees read the subject line.
Ultimately, the goal is to make each email a valuable resource in itself.
Keep in mind that every touchpoint is an opportunity to showcase the benefits they'll gain from your webinar. 
Instead of just stating what the webinar is about, delve deeper into the transformative aspects. 
Show them how it can solve specific problems or enhance their skills. 
Share tidbits, anecdotes, or testimonials from past webinars to highlight the tangible benefits attendees have received.
Using the recipient's first name is a simple touch that can make readers feel directly addressed and more connected.
If possible, weave in a sense of community. 
Phrases like "Join hundreds of your peers" or "Be part of the conversation" can foster a sense of inclusivity and make the webinar feel like an unmissable event.
Always insert a final call to action. This can be as simple as "See you tomorrow!" or "Get your tech and system ready."
Repetition is crucial because recipients might skim through your emails and miss important details about your webinar. 
In addition, placing your CTAs at both the beginning and end of your emails can optimize click-through rates. 
Use visual elements, such as buttons or bold text, to make your CTAs stand out even more. 
It's also helpful to explain the why behind your CTA. For instance, stating the benefits of joining from a computer rather than a mobile device. 
Lastly, make sure that all the links or buttons associated with your CTAs are functioning and lead to the right page.
Add Bonuses and Incentives
Offering exclusive content not only rewards early registrants but also encourages more people to sign up. 
This adds an element of exclusivity and makes your audience feel they're getting something special that others might miss out on. 
These bonuses can also serve as teasers for the main content of the webinar. 
After the event, you can then repurpose these incentives for future campaigns to maximize their utility and the return on your effort.
Create the Perfect Webinar Opt-in Sequence with AEvent
The true power of a webinar opt-in sequence lies not just in getting more people to show up, but in nurturing a more informed, enthusiastic, and committed audience.
By the time the webinar begins, they're eager and ready to engage.
Integrating automation tools like AEvent can transform your approach, making the entire process more efficient and effective. 
And by combining email with SMS/MMS reminders, you cast a wider net so your messages reach your audience wherever they might be. 
Schedule a demo with AEvent to learn how you can elevate your webinar marketing efforts.