Webinars are powerful tools for businesses that want to engage their audience, drive leads, and solidify their brand presence. 
Of the various types of webinars, evergreen webinars stand out due to their ability to consistently deliver value without constant re-invention.
But with a plethora of platforms boasting evergreen features, how do you choose the best fit for your business needs? 
In this guide, we dive into the 6 best evergreen webinar platforms that promise scalability and impressive features tailored for business growth.
Before we talk about each platform, let's look at what exactly an evergreen webinar is. And why it's such an effective marketing tool.
What is an Evergreen Webinar?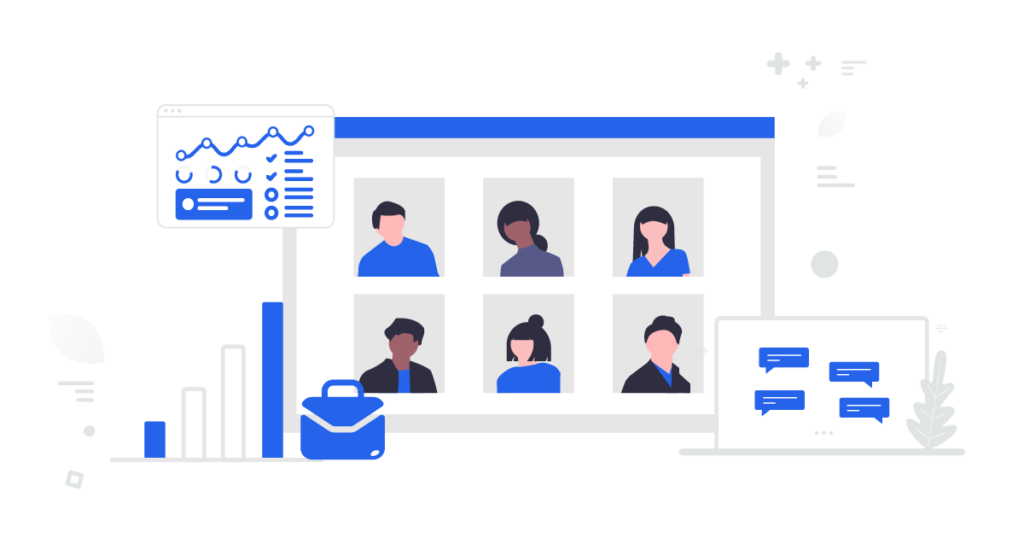 At its core, an evergreen webinar is all about longevity and relevance. The term "evergreen" is borrowed from content marketing and refers to content that doesn't become obsolete. 
Instead, it maintains and even increases its value over time.
An evergreen webinar is a pre-recorded webinar that remains perpetually relevant and "fresh" for its audience. 
Unlike live webinars that are scheduled and occur in real time, evergreen webinars can be accessed and viewed by attendees at any time. 
So, they offer greater flexibility and convenience.
Think of them as the Netflix or Hulu of the business content world. Just as viewers can watch episodes or movies on demand, attendees can engage with valuable business content whenever they wish (while reaping the benefits at their own pace).
Why are Evergreen Webinars Important for Growing Your Business?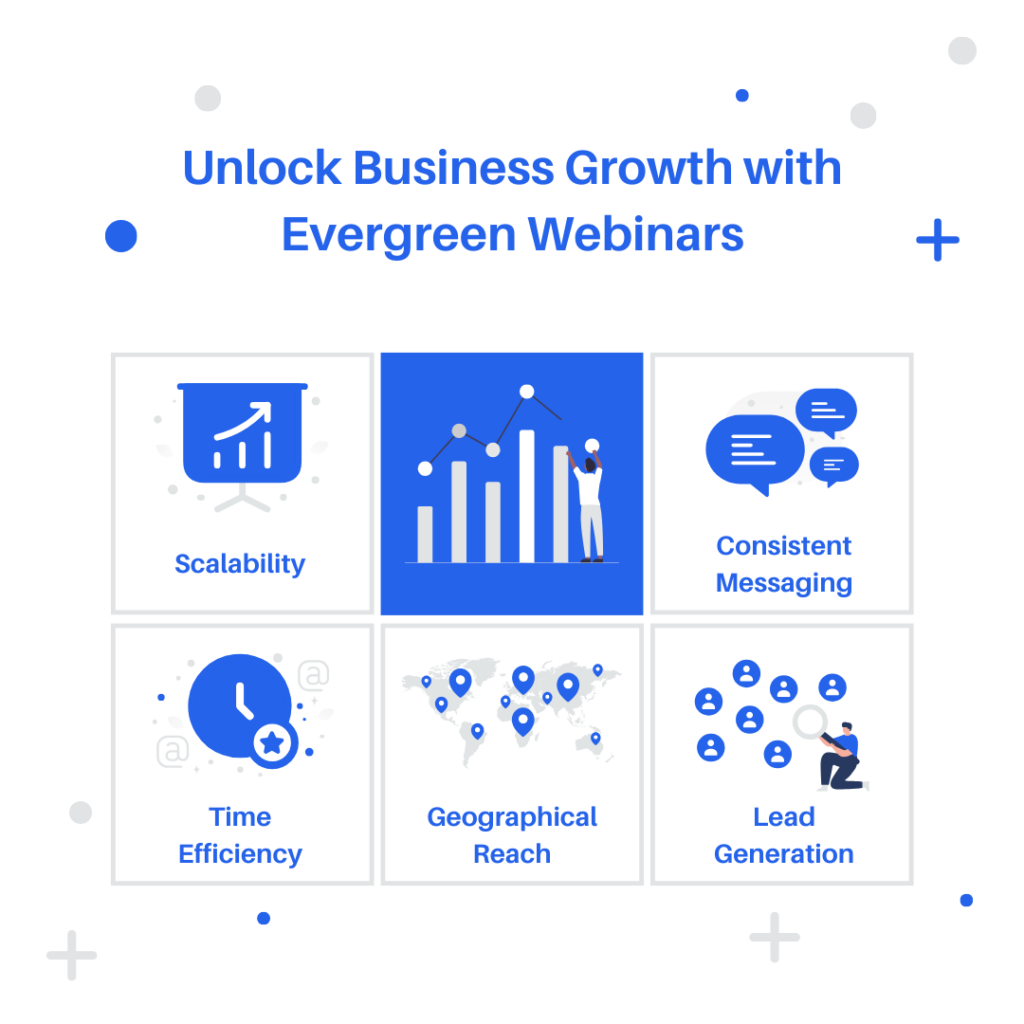 Hosting live sessions repeatedly can be a logistical nightmare. Evergreen webinars, once created, serve as an ever-ready tool in your arsenal. 
This you to efficiently scale your outreach efforts without the operational hassles of organizing live events. 
Imagine the potential outreach when you have a tool that works for you, 24/7, without additional effort.
In the age of information overload, brand consistency has never been more crucial. 
With evergreen webinars, there's no room for variability in message delivery. 
Every attendee, regardless of when they access the content, receives the exact message you intended. 
This maintains and reinforces your brand integrity and reputation.
Hosting a live webinar can be time-consuming – from content creation to tech checks and the actual presentation. 
With evergreen webinars, you prepare once and reap the benefits indefinitely. 
This efficiency means your team can redirect their efforts to other crucial areas, such as marketing, sales, content research, customer engagement, or product development.
The world is your oyster with evergreen webinars. Time zones become irrelevant. 
Whether an attendee is in New York, Tokyo, or Sydney, they can consume your content at their convenience. 
This allows you to democratize access to your content and ensure that you have a truly global reach.
Continuous Lead Generation
Traditional lead generation methods often require consistent input and effort. 
Evergreen webinars, on the other hand, are akin to a well-oiled machine that keeps running. 
As long as the content remains relevant and valuable, these webinars serve as magnets, attracting potential leads and driving conversions day and night.
Examples of Evergreen Webinars
Ready to harness the power of evergreen webinars for your business but feeling overwhelmed?
You're in luck! Below are some ideas for the types of webinars you can use to grow your business on autopilot.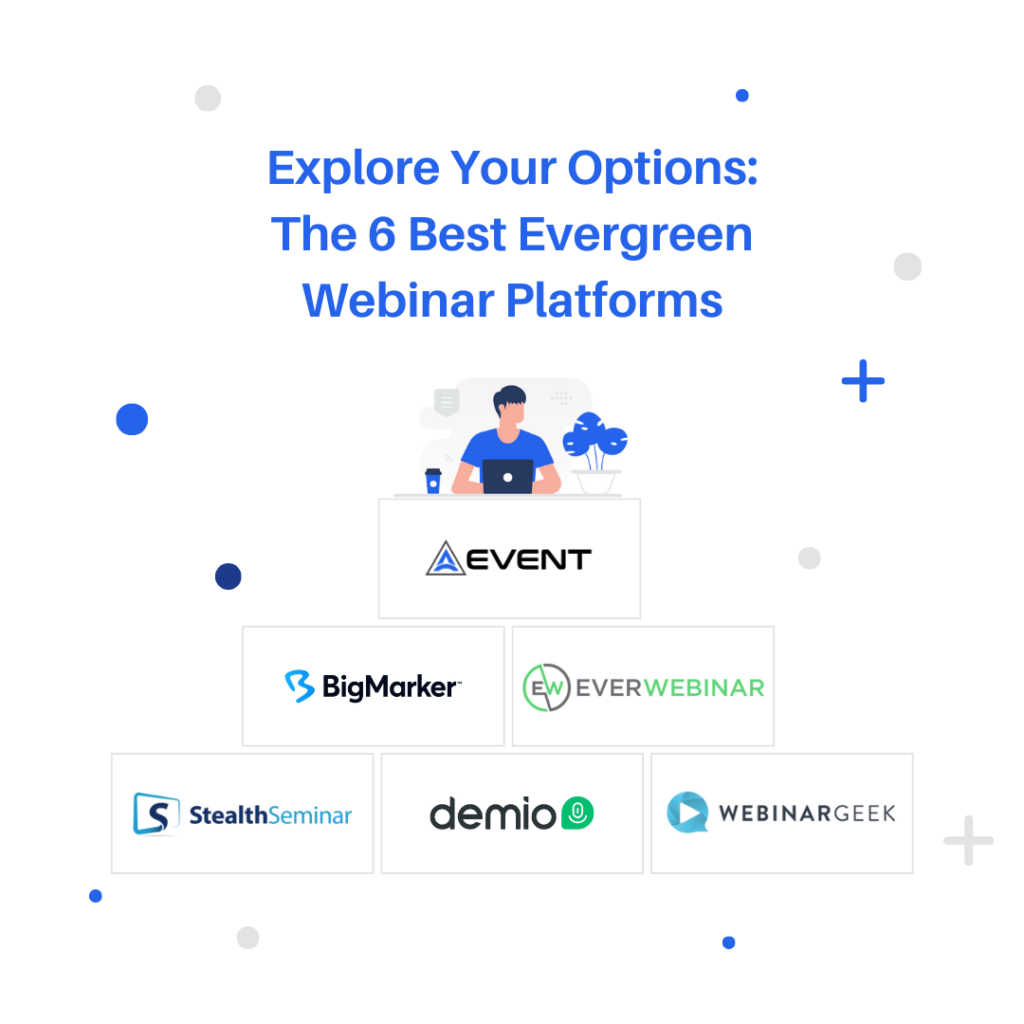 One of the most effective ways to showcase your product's capabilities is through a detailed walkthrough. 
Evergreen webinars allow you to capture the perfect product demo—where everything goes right—and share that excellence with an endless stream of potential customers. 
This is ideal for prospects who are in the consideration stage of the buying cycle, offering an immersive way to research and understand product features, advantages, and even ROI potential.
The beauty of evergreen webinars in training lies in their repeatability. 
Whether it's a series of tutorials on how to use a software tool or an in-depth guide on mastering an effective marketing technique, these webinars ensure that views can quickly get up to speed. 
And because they can be updated as needed, you can easily incorporate new features or strategies as you refine your webinar.
In a fast-changing world, some wisdom remains timeless. 
Conversations with industry thought-leaders on enduring topics like leadership, innovation, or best practices in a field can offer insights that stay relevant for years. 
Packaging these interviews as evergreen webinars enables ongoing access to expert knowledge, creating a repository of high-value content.
Case Studies & Success Stories
Real-world examples are compelling proof points for a business.
Detailed analyses of projects, client success stories, or problem-solving techniques resonate well with prospects seeking evidence of capability. 
These webinars not only tell a narrative but also serve as a repository of best practices and strategies, making them valuable long-term assets.
Whether it's a masterclass on the fundamentals of digital marketing or a workshop on effective sales strategies, themed workshops can offer a wealth of information that remains useful for an extended period. 
These in-depth sessions can cover everything from foundational theories to practical skills, making them a timeless asset for both newcomers and seasoned professionals in the field.
That said, preparing for these webinars requires the right software and tools. These are the best evergreen webinar platforms that should be on your radar: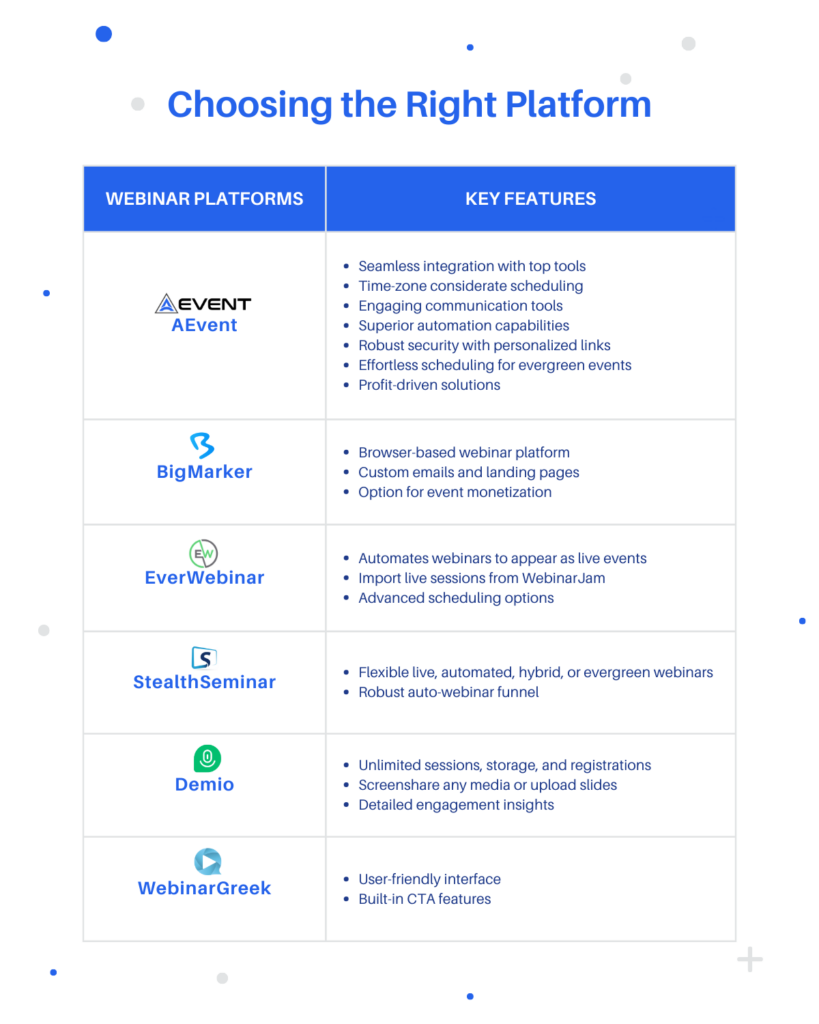 AEvent transforms traditional webinar engagement into an omnichannel marvel. You can seamlessly sync with platforms like Zoom and create evergreen webinars that resonate with your audience across diverse communication channels. 
Here are the key features that make AEvent a top choice as your evergreen webinar platform:
Seamless Integration with Top Tools
AEvent isn't just a standalone platform. It's a hub that integrates with leading tools like Zoom and GoToWebinar and enures that you don't have to compromise on your favorite platforms. 
Plus, with over 50 native integrations and 1,500 possible combinations through API, Zapier, or Webhooks, AEvent provides unparalleled flexibility.
Time-Zone Considerate Scheduling
One of the key advantages of evergreen webinars is their ability to cater to a global audience. 
AEvent's platform understands this, offering automated lead-up and follow-up sequences based on attendees' time zones. 
This helps your content reach your audience at the right time.
Engaging Communication Tools
AEvent goes beyond hosting webinars. 
From SMS/MMS messaging with open rates of up 98% to playful Giphy integrations and direct WhatsApp communications, AEvent ensures that you can engage with your audience in diverse, impactful ways.
Superior Automation Capabilities
The beauty of evergreen webinars is their "set it and forget it" nature. 
AEvent enhances this with features like Ringless Voicemail, which allows businesses to leave personalized messages directly in attendee voicemail boxes, skyrocketing open rates as high as 92%.
The platform's capabilities ensure your attendees get personalized experiences without manual intervention. 
You can even integrate AEvent with ActiveCampaign to automatically send out emails to any audience segment you prefer.
Robust Security with Personalized Links
In an era where digital security is paramount, AEvent offers evolving personalized links. 
These unique links not only enable precise customer tracking across platforms but also prevent uninvited guests, ensuring that your webinar content remains exclusive to its intended audience.
Effortless Scheduling for Evergreen Events
With AEvent, scheduling an evergreen webinar is a breeze. Here's a simple step-by-step guide:
Step 1: In AEvent, click on "Schedule" on the left sidebar.
Step 2: Under "Event Timeline," choose the timeline you've previously created.
Step 3: Select the platform you wish to use for the webinar.
Step 4: Activate the recurring slider. From here, pick the Start Date and time for the webinar, and choose whether you want it to be repeated Daily or Weekly.
Step 5: If you're looking to set an expiration on a specific date, or after a set number of occurrences, you have that flexibility.
Without any additional settings, your webinar will continue to play on autopilot.
AEvent helps you host webinars that drive significant results. 
As a testament, businesses leveraging AEvent's proprietary technologies have witnessed 20-30% greater profits from their online events. 
When you choose AEvent, you opt for a platform committed to your growth. 
You can choose from 3 different pricing plans that fit your needs and budget: the Advanced Plan, Unlimited Plan, and Enterprise Plan.
BigMarker is a browser-based evergreen webinar platform. This means users don't need to download the software to launch their online event. The platform has 200 features and integrations, ranging from CRM systems to payment gateways.
BigMarker users can choose between just-in-time or fixed interval schedules for their evergreen webinars. Just-in-time sessions happen in real-time when a person lands on the webinar landing page or popup registration form. Meanwhile, fixed interval sessions occur on pre-defined intervals such as every 30 minutes.
One small drawback is that BigMarker doesn't support post-webinar email replies. But it does allow hosts to publicly chat with attendees when they join a live session. 
EverWebinar's main advantage lies in automating webinars to appear as live events with just a single click. If you're already using WebinarJam, you can import your live session into EverWebinar, and everything from the live session will be replicated exactly as it happened—down to the last chat message and slide presentation.
Advanced scheduling options and seamless integration with popular marketing tools make this platform flexible.
StealthSeminar is known for its flexibility. It can run live, automated, hybrid, or evergreen webinars without missing a beat. But if you are running a live webinar, StealthSeminar won't allow you to record the session or convert it to an evergreen webinar later on.
One of the platform's defining features is its auto-webinar funnel. From the moment a prospect registers for your webinar, they are guided through a journey that aims to increase their engagement and boost conversions.
If you want a webinar platform that allows you to preserve your live videos for later use, Demio is a good option. Both your on-demand webinars and your pre-recorded video listings can be tracked and measured. This helps build a substantial library of evergreen material. 
In addition Demio offers participants a one-time webinar registration for immediate access to all previously held webinars as well as upcoming ones. The readily available collection of content on this platform makes it simple to keep attendees coming back for more.
Both recurring and on-demand scheduling are available in Demio, but you cannot use both for the same webinar.
WebinarGeek recognizes that not everyone is a tech wizard. And its platform is designed with this in mind.  The user interface is simple. WebinarGeek also offers built-in CTA features that you can customize to appear at strategic moments during your webinar. This helps to guide your attendees toward making a purchase, signing up for a service, or engaging in another valuable action.
The downside is you can't display the scheduled session timings in the attendee's local time zone. So, the schedules you select might not be suitable for everyone.
Wrapping Up: Why AEvent Stands Out as Your Ultimate Evergreen Webinar Platform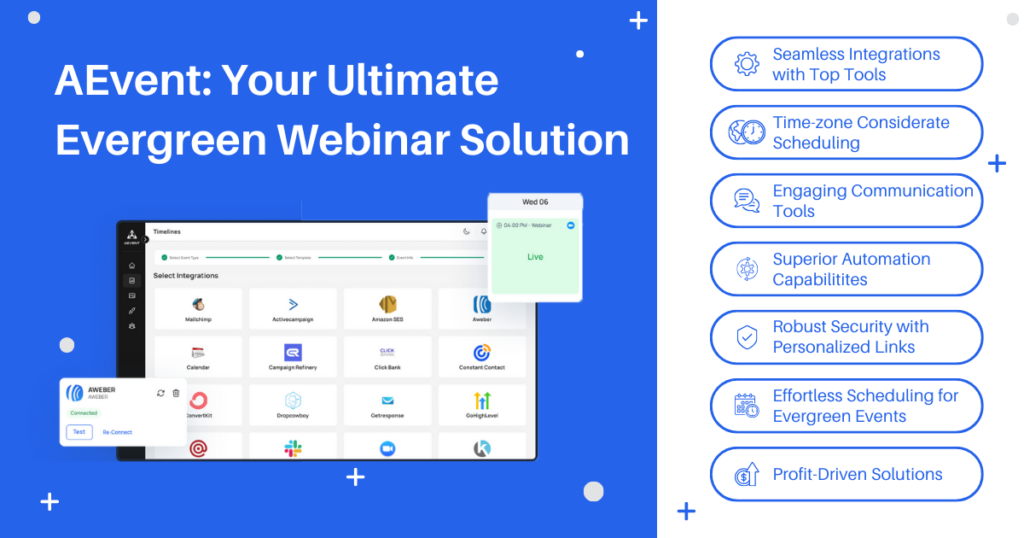 Whether you're looking to host product demonstrations, training modules, or even expert interviews, evergreen webinars offer a convenient and consistent method of sharing valuable content.
Of course, choosing the right evergreen webinar platform is crucial. Especially for driving leads, engaging your audience, and scaling your business efficiently. 
Among the platforms we've explored, each has its own set of unique features and advantages. However, if you're looking for a platform that excels in hosting evergreen webinars and promises unparalleled scalability and flexibility, AEvent should be at the top of your list.
Book your demo today to see how AEvent can help increase your webinar attendance rates and generate extra revenue for your business.